Beyond the Doormat
May 11, 2010
The world outside my front door is a disappointing place. Cookie-cutter houses, with neat lawns and matching shutters, sit side-by-side in a maze that suburbanites call a Development. Each house reflects the designer's objective: construct three models that can be rotated and switched across what they think are cleverly named streets so that model one sees model two on its immediate left and directly across. "Let's build on the mud of this old plantation," said the Developers. And so, I am surrounded by damp normality.
A home should reflect the people who live inside its walls, not the cheapskate company that churned out two-by-fours, poured cement, and slapped drywall over PVC pipe plumbing. I am an artist; the world is my canvas. My medium of choice is the necessity of life; what I need, I create with what I have at hand: instead of two-by-fours, recycled metal, earth clay as opposed to cement, and painted stones or recycled glass instead of drywall. Life is transient, so why are all of today's new phenomena so permanent, plastic, and purposeless? I want to show the world what functional art is and how custom-designed products can change the quality of life for Everyman.
My goal in life is to break the pattern of monotonous architecture and production technique that has encompassed the world. There is much more to art than critique, and there should be much more to building than functionality; I want to teach the world how to build like nature, each item specifically designed for one person, no waste.
In the early 1800s, North American pioneers began the trend of constructing General Stores; a concept that eased transportation and sale of goods produced in the East, through the use of a single vending location. This trend continued until the Midwest was populated enough to sustain business based on specialisation of labor. That is, until this twenty-first century, when big 'General Stores' like Target and Wal-Mart replaced small businesses. The result of the world's increasing obsession with mass production is that people are purchasing items of lower quality at higher prices to simplify daily tasks. Ford's assembly line process was surely an advance in technology, but not everything needs to be produced in mass quantities. Houses, for example, should be built with the specific needs of the future inhabitants in mind. A combination of Eco-building designs and Bio-energy theories can easily make housing developments more economical and bioethical, as well as helping to dissolve the income gap displayed by neighborhoods such as mine in which bigger houses mean more money.
The world outside my front door is a disappointing place because there are better ways to build homes, to preserve nature, and to live harmoniously. I am young, filled with original ideas inspired by the joy of life and the wonder and awe of the world. I would rebuild every house and reshape every plot to improve the lot of my community, and in doing so, improve myself.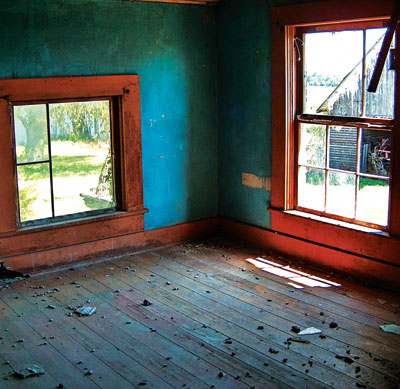 © Sean C., Princeton, IL