The Art of Forgiveness
November 12, 2009
I've often been taught that God moves in mysterious ways, and that He speaks to us through a canvas of sky and a language of love. With love comes trial and tribulation, and upon overcoming these, the heart develops a new kind of strength. Some people have a defining moment in which they have a revelation about this love, and ultimately, about their character. My moment came on the fifth day of a rainy December.
Reluctantly, I stepped off the afternoon bus and into a thick atmosphere. With effortless, instigating talent, the wind whispered some of my flaws. Cowardice. Selfishness. Grief plagued my mind, and I did the only thing I had known to do for the past five years. I retreated to my bedroom; my sanctuary, with an armful of oil pastels and an endless pulse of memories.
December 1st of 2001, my baby brother was born under fatal circumstances. Lack of oxygen rendered him lifeless for nine minutes. Resuscitation proved to be a miracle; however that did not save him from serious heart and brain trauma. After seeing the furrowed brows of several medical professionals, my parents decided to pull the plug on December 5th. I was in fourth grade at that time, and had never previously experienced the death of a family member. The expression on my ten year old face must have been one of both disbelief and incredible confusion. After the initial shock, our household had reasonably succumbed to a state of depression. As my vision clouded with the dark tapestries and umbrellas of the burial, my hand responded with the smudge of charcoal on a blank canvas.
Art has always been a path of relief and self expression for me. In this instance, my neutral usage depicted the numbness I felt. What began as abstract shapes and lines took a symmetrical turn. Before I knew it, I was creating the patterns and features of Jeremiah's perfectly sculpted face. Subtle movements for his long, baby eyelashes and soft gestures for his hidden cheekbones provoked a sensation I hadn't felt since the funeral. My sketches came to life in a flicker of imagination. His newborn gaze shifted toward the artist, his arms came into view, and small hands reached out off the paper to link life and death.
I sat helplessly on the edge of my bed with the thought of him invading my senses. I sad wordlessly at the hurt I had tuned out for so long; the same hurt that was bleeding out of my portrait and staining my fingers hueless. My eyes wandered out the window to a cemetery just down the street. Jeremiah rested footsteps away from my front door in a place where birds withheld their song. He had seen a collection of serious faces showing respect in a strictly business-like fashion, but what of his family? His sister sat comfortably in a house on a hill, with no concern for her past actions. I jumped out of my position to fix what was broken.
Along with the circulating storm overhead, a sickening feeling circulated in the pit of my stomach. I wanted to run back inside and embrace the security I was accustomed to. Stubbornly, my feet would not submit. My mind screamed at its disobedient exterior until I reached the iron entrance to the cemetery. All was still.
In the general location of his tiny tombstone, I began to scan the names. Baker. Cooper. Yates. Stone and marble figures loomed above, watching my every move. Adams. Oaks. Whitehouse. Another gust of wind nearly knocked the breath out of me. Jones. Ellis…Johnson, it read. Jeremiah Johnson. December 1st, 2001, to December 5th, 2001. Clean and crisp, the engraved letters spelled out a message from my mother. My Sweet Jeremiah. I sat eye-level to his memorial stone, unsure of what to expect from myself. The air came to an uncomfortable halt.
"Thought I'd see how you're doing…" I bit my bottom lip in embarrassment. How was I supposed to address this situation sensibly? How could I reach my closure in a way that was predictable and formal? Everyone else seemed to have mastered this technique, why couldn't I? I tried again.
"I'm sorry I missed your birthday…" My eyes glazed over. I had so many thoughts to express, and no words to say them with. I was at war within myself; my heart for justice, my mind for contentment. I closed my eyes and bit my tongue. It was then that I got an answer to my question, and then that I began to release my feelings for the first time.
Just let go. Ever fiber of my being reacted to these three words collectively. Years of self conflict exploded in an incoherent babble, and I collapsed face-first into the dirt. I screamed and spat until I had to gasp for air. I apologized to Jeremiah for refusing to accept his death. I apologized to my friends and family for passing judgment on whatever ways they were able to cope. I repented for blaming God in a situation where I needed Him the most. I surrendered my body and soul, both works of art, and He gave me the strength I needed to lift myself off the ground. Anyone within hearing distance could tell it was a visitation long overdue.
Some people may consider my resolution that day an act of humiliation, but I disagree. I had passed a test of strength, and the wind no longer had the authority to whisper to me my flaws. Recognizing me as a worthy opponent, it swept in a gift on inspiration. Water droplets plummeted from competing rain clouds. I wordlessly witnessed the transaction of art from Heaven to Earth. That day, I found beauty in the art of forgiveness.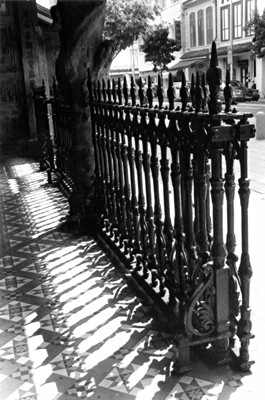 © Gretchen L., Edina, MN