Transition
MAG
What do you feel will be the biggest challenge as you transition from high school to college? How do you plan to meet that challenge?

Two Johns, one Jonathan, a Megan without an "h" and a Meghan with an "h," and one each of Robert, Igor, Lauren, Courtney, George, Natalie, Cameron, Josh, Liz, Erin, Denise, Billy, Cassie, Ed, Jordan, Vanessa, Caitlin, Samantha, Jose, Jessica, Danielle, Kim, Andrew, Kevin and Russ. These are the names of my entire senior class (not including me) in eight lines. Not many people can do that, but I can.

Most of these people have affected my life in one way or another. Whether playing with blue Puffalump toys in a daycare library or living on the same block for 12 years, I have a connection with each member of my graduating class. Not many people can say that, but I can.

Every day for the past three years, I have been with the same 30 people, give or take a few. There is not one face I would not recognize or one mother I would feel uncomfortable hugging. We're a family. Do we all get along? No, but we're a family nonetheless. We've grown up together in a small, sheltered environment. Since seventh grade we've been inside the same brick walls. How, then, will we leave our comfort zone and head in different directions? Therein lies my biggest challenge.

By no means do I wish I could spend four more years with my senior class. I care about them all, but cannot wait to leave them at the end of May. It's not going without the people that presents a hurdle for me, it's going without what those people bring. I know that every day at 9:40 a.m. I can head to the cafeteria for a Pop-Tart and cookie outing and at 12:25 p.m. my lunch bag will be searched by a certain someone who always wonders what fruit snacks accompany my PB & J. How can I go to college and accept that these routines will no longer be part of my life?

College will open up the doors for in-numerable other routines. Though college will not be as sheltered, a new comfort zone will be established inside the campus gates. I will have limitless opportunities to make new friends and form a new family. Chances are, most of the people I listed at the beginning of this essay will become a distant memory.

One thing I can count on to help me meet this challenge is a change in my-self. All through high school I stood back and was more of a spectator than a player. In college, I will not only be a player, but the captain of the team. I will walk right up to new people and introduce myself.

I plan to approach college with the mindset that I need to be in charge of my becoming adjusted. I need to find the people, places and daily routines that make me feel at home again. It needs to be my responsibility, and I plan to make it just that.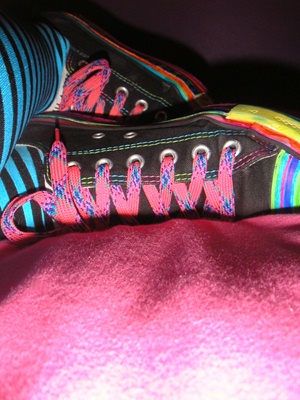 © Anonymous