Football
MAG
Football, to me, is more than just a game. I have probably learned more valuable lessons from it than from school.

When I joined the team freshman year, I didn't realize what I was getting into. Even though I had been playing since fourth grade and knew it was hard work, nothing would prepare me for the effort I would put into football that year. We worked all summer in the weight room and ran on the track to get in physical and mental shape before the season.

See, football is more of a mental sport than anything else, so running on the track wasn't only about getting in shape. We would push our minds by running as hard as we could even if we felt like we were going to pass out. At the beginning, I was immature and only thought of myself, sometimes even giving up when I was tired or hurting. Then after the third game I had a season-ending injury. Imagine working all summer and then only being able to play three games! I needed surgery on my arm and at least five months to recover.

Needless to say, I was sidelined for the rest of the season, but this actually helped me realize that since you never know when your last play will be, you should try your hardest in football and life.

After freshman year I decided that I would always give my best effort. Playing varsity football has taught me so much more than just what my assignments are on a particular play or how to block. I have learned to think about others first, and realized how important working hard is. Being with all my friends, even sweating and bleeding with them, really made us bond as a group of hard-working young men I know will succeed in life.

High-school football is more than just a sport. It is a learning ground for many to strengthen their personality and character for their lives. One thing my coach always says is, "Imagine that you have just run 100 sprints and a giant bear starts chasing you. Are you just going to stand there and let it attack you because you are too tired?" The answer, of course, is no, because you can always put it in another gear even if you think you need to give up. This to me means that you can always control your attitude and effort. So, no matter what, if you maintain a great attitude and always give whatever you're doing your best effort, you will have no regrets.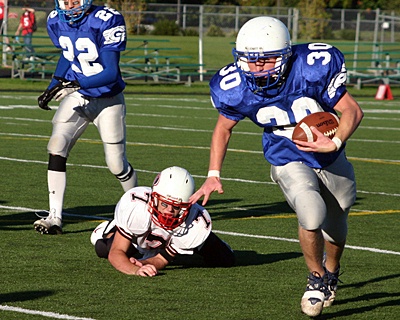 © Anonymous