The Little Things
April 13, 2013
"Brenda wears Buddies! Brenda wears Buddies!"


When 11-year-old Brenda arrived at school with her wishful imitations of the three-striped Adidas tennis shoes, this was the chant that the other children met her with. Three words; one lasting impact. Mocking chants such as these, coupled with the muffled remarks and pitying eyes of educators, were the only constants in the life of a young girl dependent on government vouchers and food stamps. Instability wrecked havoc on every aspect of her childhood: parents with an on-again-off-again relationship, home addresses that never lasted for more than 6 months, poor budgeting which led to a monthly feast-or-famine cycle, and school reassignments so frequent that it is a miracle she learned to read and write. She knew early on that she wanted more for her future family: to live and thrive, not to survive.


This young girl was Brenda Beecher, my mother.

As I grew up listening to my mother's stories, I was able to put together the pieces of her childhood and gradually form a picture of the past: I always knew that the vision I saw before me was the makings a hero, my hero, who raised me in the loving normalcy that she herself once craved. Both of my parents instilled in me the importance of hard work and having more passion in my heart than money in the bank; as I climbed the ranks of education from middle to high schools, I never once stopped working to achieve my personal best or competing with myself to constantly set and surpass my goals.


My future is paved and sealed with the "little things:" raising my hand in Macroeconomics to question an accepted theory, brainstorming the environmental impact of solar panels, staying up until O'Dark Thirty to finish a research paper on government policy, taking a critical stab at Metaphysical poets, or simply smiling when I understand a mathematical concept. I invest in my future by taking no opportunity for granted, finding a lesson to be learned in unconventional moments, and wandering down every given avenue in pursuit of wisdom and truth. I have found that viewing life as a challenge to be overcome makes it all the more fascinating and endlessly fulfilling.


As I inch ever closer to the consummation of my high school career at graduation, I prepare for the biggest challenge I have yet to face and sink my teeth into: college. This experience will be the ultimate investment, and every friendship that I forge and class that I attend will add to the foundation of my independent life. I plan to prevail against adversity and make the seemingly "impossible" say "I'm possible!" – ultimately, I owe it all to the values crafted from my mother's tragic childhood and the blissful stability of my own.

Brenda wore Buddies, but she taught me that I never have to.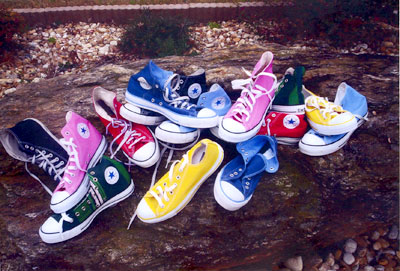 © Leandra L., Stockbridge, GA