Mixed Hair, Mixed Me
November 11, 2013
Growing up, Wednesdays were the bane of my existence. My white mother would tug and pull at my tangled curls lathered in sweetly scented conditioner while I, her helpless biracial child, cried my eyes out from sheer pain and frustration.

Looking back, I could have spared washing my hair twice a week, but my mother and I probably could not have dealt with the emotional stress of the occasion. Every day I would wear my hair in one of the two hairstyles my mother could manage: a braided ponytail or pigtails.

As a child of mixed race raised by a single white mother, I wanted nothing but long, straight, hair like my friends had. I wanted to be able to wear my hair down, swoop it out of my face or tuck it behind my ears. I begged my mother for wigs and hairpieces—anything that would make my hair less of a hassle. She never obliged, and I would continuously long for more manageable hair.

I was living in denial. I refused to accept the fact that I was different, even though deep down, I knew it was true. I did not look like my friends, whether they were white, black, Hispanic, or Asian. I always felt like the odd one out, and like any little girl, I desperately wanted to fit in.

When I was twelve, a friend with similar hair to my own came to school with hers chemically relaxed. Astonished at the fact that her hair had gone from curly to straight overnight, I begged my mother until she finally agreed to take me to the hair salon.

We drove thirty minutes one Saturday morning to a predominately African-American part of town. It was the first time I had been to a "black" hair salon. The whole place smelled of chemicals, flat irons, and burned hair, but I did not care. I would have gone to the ends of the earth to have straight hair.

The process was long and painful. The feeling of chemicals literally burning my scalp was not pleasant, but well worth it; in a few hours, I would have pin straight hair like Barbie. The results were amazing. I sat in front of the mirror for hours just touching my hair and marveling at my self-improvement.

Of course, the euphoria did not last long. I soon discovered that my hair would never look as good as it did when the hairdresser treated it. Although I spent hours in my tiny, hot bathroom making sure every piece was pin-straight, it never did look the same.

I cut it shorter, thinking it would look better—it did not.

It failed to make me the one thing I wanted to be: normal.

On the second-to-last day of my sophomore year, I wore my hair curly and down. I do not know why I did, maybe I was just lazy that morning, but it felt wonderful. I was free—free of the pressure to be what I was not: white. My friends commented on how good my hair looked, and, for the first time in my life, I felt comfortable in my own mixed skin.

My hair is big, wild, and difficult to manage, but I absolutely love it. I no longer let it define who I am.

As I have grown older and my hair has changed, so have I as a person. Slowly but surely, I am becoming my own self. I am comfortable being me. I am neither black nor white; my hair is neither "nappy" nor "silky"; I am neither "ratchet" nor "prissy," nor any other stereotype of blacks and whites. I am just me, Solina, the biracial girl who has finally accepted me for who I am, and I will not let anyone, especially myself, change that.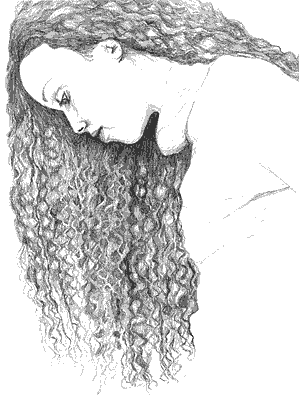 © Andrea S., Oakhurst, CA