Swarthmore College
January 30, 2012
Top ten reasons why I've fallen in love with Swarthmore:

10. A beautiful campus and world renowned arboretum. I've already picked out an Adirondack chair for my favorite study spot.

9. A large endowment, which shows the alumni's affection for the place. A "cash-free campus" is very appealing.

8. Personable professors, who are always available to discuss questions from class, ideas for a paper, or the meaning of life.

7. Funky traditions that show the innovative spirit of Swatties. My family hosts an annual New Year's scavenger hunt, and I love fun yet competitive games like the Crum Regatta.

6. Location. In February I visited Philadelphia and admired its rich cultural diversity and enthusiasm for the arts. Swarthmore is close enough to continue working with MANNA, but far enough away that I am not engulfed by "city life".

5. Encouragement to take risks. I have many academic and extracurricular interests. At Swarthmore I will have "permission to multitask" and even try new things with my highly motivated and intelligent peers.

4. Swarthmore's value of collaboration over competition. In my favorite high school classes, I have learned as much from my peers as from my teacher. The pass-fail freshman semester sets the foundation to "learn for the process not the product".

3. A top women's Ultimate team is a high priority for me. It's exciting that women's Ultimate is Swarthmore's only division one sport.

2. Diversity of world views. Wes Willison quashed my fear that it would be tough to be a Christian at Swarthmore: he is a pastor's kid and he loves the place. He explained that Swarthmore did not make him hide his faith but instead challenged it, and gave him numerous opportunities to share his beliefs.

1. First and foremost, the Lang Center for Civic and Social Responsibility. I want to find a career where I can assure children in foreign countries of their human rights to their own body and an education. At Swarthmore I can cultivate and actively pursue that dream.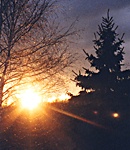 © Christy S., Germantown, NY