Yale University
MAG
August 1, 2014
New Haven, CT: Yale University, an Ivy League institution with a 6.26 percent acceptance rate for 2014, is one of the top colleges on the planet. The Yale experience is lively, challenging, unusual, and ultimately, rewarding – that is, if you can get in.

Yale University can only be described as simply breathtaking. Its campus features stunning gray Gothic architecture that makes it look more like a medieval castle than a modern university.

Its curriculum is ingenious. Before semester begins, there is a two-week "shopping period" during which students can have a foretaste of a class before deciding to commit. There are about 2,000 course offerings, so although there is a core curriculum, one can definitely find a way around it with fun, unusual courses.

For example, a friend of the admissions officer I talked to, who was pursuing a major in film, needed to fulfill his mathematics requirement in order to graduate. As he had an intense dislike for the subject, he found a way around it with a course titled "Movie Physics." In this class, he could apply mathematics to his passion for action films. The only homework was to analyze insane stunts in films and use math to determine whether these stunts were actually possible. It's classes like these that get me excited about a Yale education. And if Yale doesn't offer your major, have no fear – the institution allows its students to design a major for any topic in the world!

I was also impressed to learn about Yale's study-abroad opportunities, some of which are fully funded, including accommodations, dining arrangements, and the classes themselves. In many cases, a student only pays airfare and leaves the rest to the university.

Yale's dormitories, of which there are 12, are collectively known as residential colleges. There is a sense of healthy competition among them, and the students are genuinely enthusiastic about where they live. Yale's residential colleges are designed to be just as diverse as its international student body. For example, if 11 percent of Yale is made up of international students, 11 percent of those students will make up each residential college. Roommates are assigned at random. The exteriors of the residential colleges are beautiful and very safe. Each dormitory contains an underground gym, and most rooms are doubles.

Lastly, Yale gives its students generous financial aid. I heard from an admissions officer that Yale was cheaper for her to attend than any state school to which she had applied. Ivy League schools provide their students with fabulous financial aid when necessary.

When I strolled around the campus, I noticed little things that got me excited about the Yale experience. I took note of the innumerable extracurriculars: belly dancing, the Vietnamese Club, tap group, film club. There are over 500 activities available!

While Yale is difficult to get into, that shouldn't stop anybody from wanting to apply – especially those who do have a serious chance!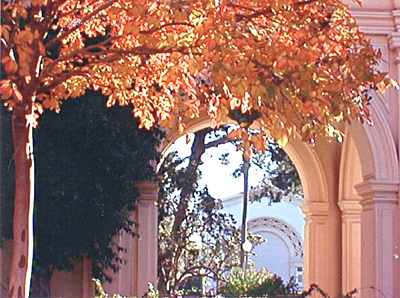 © Rachel B., San Diego, CA