Princeton University
MAG
August 12, 2014
Princeton, NJ: Idyllic Princeton University is one of the eight historic Ivy League colleges in the Northeast. In fact, just this past year, the picturesque school was named the number-one academic institution of higher learning in the country by U.S. News and World Report. Founded in 1746, Princeton is a midsize college sprawling over 500 acres and hosting 5,244 undergraduate students. With a 7.4 percent acceptance rate, it is clear that Princeton is searching for the best and the brightest, but that shouldn't deter anyone from applying. A top-quality Princeton education will prove to be both intensely challenging and life-altering.
Personally, I would describe Princeton University as a rural New York University. The academic and study abroad programs offered by both are similar, helping provide students with international experiences that cannot be matched inside the walls of the classroom. Princeton is a school for budding politicians; in fact, many eminent world leaders, including president Woodrow Wilson, earned diplomas from Princeton. Here, great emphasis is placed on the social sciences, languages, and the humanities.
Princeton does not have a core curriculum as many colleges do, but it does have distribution requirements. Each student must complete one or two semester-long courses in seven areas: epistemology and cognition, ethical thought and moral values, historical analysis, literature and the arts, quantitative reasoning, science and technology, and social analysis. With these requirements, Princeton encourages exploration of academic areas that may not pertain to students' majors, which helps create thoughtful, responsible, open-minded citizens. For example, Princeton requires that students become proficient in a foreign language before graduation; luckily, the university offers over 20 languages to choose from.
One interesting offering at Princeton is the Bridge Year, an all-expenses-paid gap year program that students can spend volunteering abroad. Only 35 students are chosen for this highly selective, work-heavy program each year. Opportunities in the Bridge Year include teaching international students and helping out local communities. Students can visit China, India, Senegal, Peru, or Brazil. In my opinion, nothing is quite as life-changing as travel to a foreign country. I love this inventive, innovative approach to learning, and I would strongly consider this program as a reason for applying to Princeton.
Another highlight is Princeton's generous financial aid packages, offered to students of all economic backgrounds. Tuition carries a hefty price tag of $41,820 annually, plus $13,620 for room and board. But through its large endowment, Princeton is able to provide students with the most generous financial aid of any university I've visited. If a student's parent makes less than $60,000 per year, the entire $55,000 will be fully funded by the institution. It is a widely held misconception that Ivy League schools are overpriced and not worth the cost. The reality is that an Ivy education can be fully accessible to all.
Princetonian culture is alive and well on campus, where over 300 co-curricular activities are offered, including multicultural student organizations and even a campus fashion magazine. Athletics are also very popular, with football, basketball, cheerleading, and even crew teams.
At Princeton, mealtimes are social gatherings. There are a variety of meal plans, including on-campus dining and co-ops, in which students take turns preparing meals and washing the dishes. Students may also choose to join an eating club. These are not run by Princeton, but are affiliated with and welcomed into the university's setting. Eating clubs host dining nights with professors, and each club represents a different personality. For example, the Tiger Inn is most frequented by athletes. Eating club admission can be sign-up-and-join or "bicker." A bicker club is more exclusive, as students must go through a selection process. On a bicker night, unaffiliated students go to the eating clubs of their choice and chat with the members at a welcoming party. Then the members decide which students to accept. I think that bickering sounds a bit silly, but it may be a fun tradition at Princeton, and provides an excellent opportunity to socialize.
A walk around the bucolic campus motivated me to apply. By far, Princeton is the most attractive campus I have visited. It is spacious and inviting, and the atmosphere is relaxed and open. At the entrance is a small lake that leads to the university's main buildings. The architecture is in a charming Gothic style, making Princeton resemble a medieval city center instead of a college. The many ivy-covered buildings offer visual appeal.
As mentioned, Princeton is in a fairly rustic area of New Jersey. At first I was hesitant about even visiting, since I thought that it was in the middle of nowhere. On the drive, all I noticed was a Target store and a small cinema. However, a one-hour train ride will land you in Manhattan, and an hour-and-a-half ride will take you to Philly. But there is so much to do on campus, it is unlikely you will ever be bored.
I changed my mind about Princeton after visiting. The rural campus allows for college life to be in full bloom, with the urban world just a train ride away. I also appreciate the international education the institution promotes and provides at an affordable price. The school isn't too big, only welcoming 1,303 freshmen per year. I urge everyone to keep an open mind and take at look at this illustrious institution. Learn more at www.princeton.edu.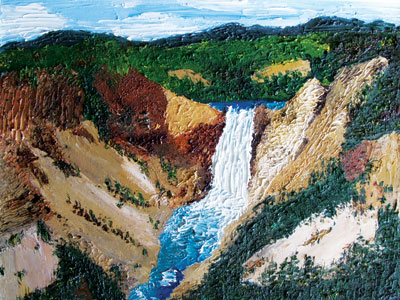 © Lindsay S., Billings, MT