The Super Chemical; Chapter 1
February 18, 2010
December 4, 2009; Milwaukee, Wisconsin

A blizzard was raging in Milwaukee, but twelve year-old James didn't care. He ducked behind a dumpster, trying to escape from his pursuers. They raced past him. James knew that he was extremely lucky that there was a blizzard. It had helped him escape, and had saved him more than once so far.

James jumped out from behind the dumpster in case they came back. He started to run, but ran into a wall. James looked up and saw that it was much worse than a wall.

It was Adam.

"We saw your little trick. Thought we would come back and say hi." James tried to back up, but ran into another boy. He realized that he was surrounded.

"Don't do this Adam," James warned.

Adam laughed, "Why not?"

James didn't have an answer for that. He tried to think of something quick. "Because everyone will know that it was you who beat me up."

Adam walked up to James and got ready to punch him. But before he could, an earthquake rocked the ground.

"W-what's happening?" Adam yelled.

"I don't know. We don't get earthquakes here." Everyone ran to the sidewalk and looked around. What they saw made even Adam pee his pants.

"Fire!!!" At that moment a fireball flew down the street. Everyone turned to run, but they were too late. It consumed everyone in its path.
?
Boston, Massachusetts; December 5, 2009

"Yesterday a major science lab in Milwaukee blew up. They don't know how many are dead, but they expect the number to be high. Right now, firefighters are fighting the blaze, but the poisonous chemicals in it are making it very difficult, and extremely dangerous." David turned away from the news report. It was too sad to watch, especially since his cousin, James, had been near the explosion. He was one of the lucky ones. When he was saved, he was the only one near that spot who survived. The firefighters saw a body burn up, only twenty feet away from James. Right now, he was in the intensive care unit.

David started to cry. He couldn't help it. James was probably going to die, and he was David's favorite cousin. David's mom hurried in and gave him a big hug.

"It'll be fine, honey." She tried to comfort him, but it was hard when she knew that it wouldn't be fine. The phone rang and interrupted them, and David's mom answered it. "Hello? … Oh, hi, how's James? ... That fast? … David will be very happy to hear that. … Goodbye."

"Who was that?" David asked.

"Jane (James's mom). James is awake, and is recovering. He's not going to die. He was protected by a dumpster when the explosion came, so he was able to run from the fire for a few seconds. Those few seconds saved his life. His burns weren't as bad as everyone thought, anyway. He's out of intensive care. Hey, what's that sound?"

David and his mom sat quietly for a few seconds. Those were the last few seconds they ever shared, because the sound they heard was an explosion coming down their street.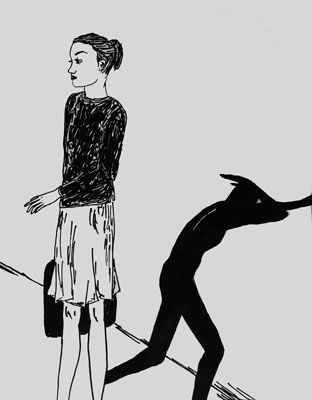 © Natalie D., Ames, IA