Janke: Individual or Copy?
May 12, 2012
Everybody has a habit that their unaware of or that's uncommon to them. But in the eyes of Lackadaisical Janke his habit isn't biting his nails, or not wearing match socks. His habit is a physical and verbal habit. His habit is Sarcasm. Know you're thinking really Sarcasm is a habit? Of course it is there are people who suffer from O.S. What is O.S? OS stands for Obsessive Sarcasm. Sarcasm is a very profligacy. Which means for you know technical people that are basically saying that he has bad behavior? You guys know the situation that Lackadaisical Janke is I would like to tell you how he broke his habit and how know he's better at communicating with others.

Okay everybody has one friend that they can tell anything and that friend will give them an honest response. Well that brings us to Lackadaisical Janke friend. Her name is Ambivalence Decorous. Oh man too bad you guys don't know what I just did. I'm hurting in the inside because if you knew what I did you probably would have been like really "this guy would think about doing something like this."

Ambivalence is lackadaisical friend. Their golden friendship has blossomed for since they were 10 years old and know their 16 years old in High School. I forget to mention that their school is called Equivocate High School home of the Evasiveness.

Anyhow I might as well tell you how my friend looks like so you visual learners can get a picture in your head so you guys don't tune me out. So here we go. Ambivalence has bombastic features. Her eyebrows look like she drew them on. She's very ostentatious when it comes to her clothing she is very chic and stylish. Why so, she shows a lot of amorously to this store called F21. Know that you guys are informed on how she looks like and what she does. I must tell you to listen right know to pay attention because know we've came to the pivotal part of the story.

I would like to tell you about this one specific conservation that Ambivalence and Lackadaisical had this one day but then that would require me typing a whole lot. But just for you guys I'll do it. Just so you guys know I don't do this for everybody.

Lackadaisical: oh yeah I remember that. That situation was pretty glutinous.

Ambivalence: It was. I have a challenge for you. I bet you can't go a whole month without being sarcastic.

Lackadaisical: But then would I would have to be meticulous with what I say. And then I would have to totally change the way I speak and be careful what I say to people, and that would break the monotony of my life.

Ambivalence: Okay, whatever you say. I knew that you weren't able to do it because you're a chicken.
Lackadaisical: You know what ambivalence. I'm going to take on your challenge on not being sarcastic for 1 whole month.

Ambivalence: Okay, whatever you say. Well I go to go. Seeya

Lackadaisical: Okay bye


Well that concludes my conservation with my friend Ambivalence. Know that you fellow readers know my personal life. I must tell you know that this challenge was very difficult because I'm naturally sarcastic so it's like telling an elephant to take a shower in a bathroom instead of spilling water from its trunk.

Although it was challenging for me to achieve this no sarcasm challenge I toughen out through the whole month and then after going through this challenge I learned that I can somewhat control my sarcasm. So, I learned a lot that at times its good to be sarcastic at times but there are certain situations that you shouldn't be sarcastic.

I hate to lie to you guys and say that I never uttered a sarcastic remark. That would be fallacy out of my mouth. So, if you want the truth of what happened then you have to read my part two story that I made up while I was writing this story because I don't like to give sneak peeks.

Whoops I lied to you again but I bet you won't catch where I lied to you guys.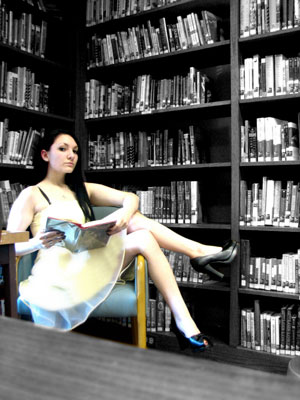 © Jessica F., Bradford, MA