changes
June 12, 2012
MY EYES SHOOT OPEN. THERE'S A SUDDEN MOVEMENT ON THE OTHER SIDE OF THE ROOM. "HELLO? WHO'S THERE?" I ASK IN A MERE WHISPER.
"SHHH...SHE'S AWAKE!" A TINY VOICE WHISPERS. "MOMMY!!!!!!!!!!!!" I SCREAM. "SHUT UP!!" THE VOICE YELLS. THE DOOR OPENS AND MY PARENTS RUSH IN. "AMY BABY WAT HAPPENED?" THEY BOTH ASK.

"THERE'S MONSTERS IN MY ROOM!!! THEY ARE IN HERE !!" I SOB. MY PARENTS LOOK AT EACH OTHER AND SIGH. "AMY, IT MUST HAVE BEEN A BAD DREAM," MY MOM SAYS.
"BUT...BUT IT WASNT!" I PROTEST. "GOODNIGHT," MY DAD STERNLY SAYS AND MY PARENTS LEAVE. AS SOON AS THE DOOR CLOSES THE VOICES START UP AGAIN. I COWER UNDER MY BLANKETS IN FEAR."P..PLS DONT HURT ME," I CRY. "WE JUST WANT TO PLAY," A CHILDREN'S VOICE RINGS OUT.
TEARS ROLL DOWN MY FACE. "PLS GO AWAY," I SOB. "ONLY IF YOU SELL US YOUR SOUL," A VOICE SAYS IN MY EAR. I GASP LOUDLY. "DONT I NEED MY SOUL?" I ASK IN A WHISPER. "YOU COULD BE SOOO MUCH BETTER WITHOUT IT. YOU CAN HAVE ALL YOU EVER WANTED." THE VOICE SAYS IT. "BUT WAT WILL GO IN MY SOUL'S PLACE? AND WHAT KIND OF THINGS," I ASK.
"WE WILL PUT DEMON'S MIST IN ITS PLACE SWEET CHILD. AND YOU COULD BE FAMOUS, EVERY ONE WILL BELIEVE YOU. YOU COULD HAVE WAT U ALWAYS WANTED A BUTLER."THE VOICE WHISPERS GENTLY IN MY EAR. MY EYES GO WIDE. "DEAL!" I SAY. "LOOK HERE CHILD.."
I LOOK OVER TO WERE THE VOICE IS AND SEE A BEAUTIFUL CREATURE THERE. THE CREATURE IS AQUA AND SPARKLY AND HAS GREEN EYES THAT LOOK GENTLE. IT'S ABOUT MY HIEGHT AND LOOKS SOOO DANG BEAUTIFUL. "YOUR SOOOOO PRETTY," I GASP. "LOOK INTO MY EYES CHILD," THE CREATURE WHISPERS. I LOCK MY DAZZLING BLUE EYES ON ITS GREEN ONES.
ALL THE SUDDEN THE ROOM IS SPINNING AND THERE IS AN ACHING FEELING INSIDE ME AND A ICY BLAST GOES AND FILLS IT. IT BURNS MY INSIDES AND FOGS UP MY EYE SITE. I START COUGHING AND ACHING. "ITS GONNA HURT FOR ONLY A MINUTE SWEET CHILD," THE CREATURE MURMURS AND MY BODY STOPS ACHING AND RELIEF FILLS ME. I SIT UP AND LOOK AT MY ARMS.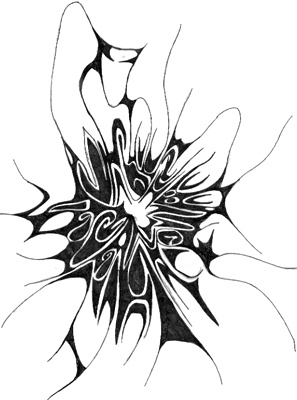 © Ansley F., Tifton, GA