Journey To The Moon
August 9, 2012
It is August 2010 and Robby is going back to school. He goes to William Middle School in Jacksonville, Florida. This year his classes are Pre-Algebra, Geography, Spanish, Earth Science, English and Physical Education. Robby loves his school, he has many friends and was very popular. His friends are Joey, Greg, and Sue. Robby met Joey in second grade, they got in a fight and when they realized the fight was stupid they became friends. Robby met Sue and Greg at a space camp. This was the first time Robby went to space camp and did not have any friends. The first day at that camp he became friends with Sue and Greg.

It is the fist day of school and everyone is ready to meet there teachers. Robby and his friends get Mrs. Creek. Mrs. Creek is considered to be one of the nicest teachers at William Middle School. Robby meets his teacher and it turns out she is the nicest teacher ever!

After the meet with the teachers Robby decides to hang out with his friends tonight. They decide they want to go to the movie and see Outer Space. Outer Space is considered to be the best movie of the year.

It is nine o'clock and Robby, Greg and Sue are going into the theater for their nine o' five movie. The movie starts and it turns out to be great. When they leave they theater they were so shocked they did not think that a movie about space could be so interesting. After that movie Robby was addicted to science and space. Space, Space, Space that is all Robby ever talks about! He really wants to go to Kennedy Space Center. He thinks that space shuttles are so cool. Solid Rocket Boosters are the neatest thing to him.

It is the next summer and Robby is on his way to Kennedy Space Center. Robby just arrived at the Space Center. He is with his mom, Mrs.Cook. They are on the on the take off simulator. He thinks the simulator is cool because it goes through all the real steps of take off. He likes the G-roll and the SRB separation. Also, Robby thinks seeing the take off pads is awesome. He has done almost everything in the park and asks his mom if they can go to their hotel.

They get to their hotel and they check-in. When they get to the room they realize it is decorated in space things. They order room service and get chicken and noodles. "Room Service" someone said, at the door. They get their food and eat and then get ready for bed. They will be going back to Jacksonville tomorrow.

"Good Morning," Mrs.Cook said to Robby. It is time for them to go back to Jacksonville. The pack up all there stuff and check out.

They get home and Greg and Sue are waiting for Robby to tell them how his trip was.
"Did you try the space ice cream?" Greg asked. "Man, that is what I forgot to try!", Robby replied.

***


Robby is now twenty-one and he works for Kennedy Space Center. Ever since he came here when he was young he has wanted to work here forever. The only thing he did not see coming was that he is now a cleaning person. He is happy though because he gets free entry to the park and can bring five friends to the Kennedy Space Center anytime he wants. It is a "win win" deal in his eyes even if he is a cleaner.

Greg and Sue are still friends with Robby, while Joey thought Robby was out-rated. Greg and Sue come to visit him, and Robby treats them with a day at the Kennedy Space Center.

Sunday came and Greg and Sue did come for a visit and they went to the park. They go in the simulator that Robby went in when he was young, they all love it! They cannot forget the launch pads, so they go to see those next. Then after that they decide to go see a movie at the Movie Theater they have there. Before the day was over Greg made sure that he got his space ice cream. They go and find a table to sit at and they open the pack of ice cream and they eat it. They are shocked that is was actually good. Greg said, "My friends said it tastes like crap." "It does not taste like poop, gosh," Robby answered.


Greg and Sue leave the next day. They had a great time. They would love to stay another day, but they have to go back to work so they have to leave.


Robby is starting to like his job, he gets to talk to a bunch of people. They appreciate what he does to keep the park clean. He feels good for what he does. Robby finally likes his job.


***



Robby was cleaning the bathroom one day and a guy walked in. This guy's name was Jimmy. They ended up having a conversation. They talked about how cool space is. The guy told Robby that there is a contest online and you can win a trip to the moon with one friend. Just enter yourself and if you win all you have to pay is fifty bucks.

That night when Robby went home he went to the website and signed up for the Journey To The Moon. He would find out if he won in three days.

Three days later the results came in and Robby won. The thing was he worked at the Kennedy Space Center. The little detail no one was informed on was they could not work at the Kennedy Space Center. Robby had to give it up to someone else and he thought of the guy that told him about the contest. He found the guy that told him about the contest and decided to give the prize to him.

Jimmy would be going on this exciting Journey in one year. The reason is Jimmy would come back in six months to prepare. The one week before take-off he would pick his friend. Then they will practice real hard for take-off. Then it would be time!

Robby watched Jimmy leave. Jimmy was so excited and thanked Robby. Jimmy would be on his way to the moon in a year. He had to go home to get prepared for this, because this is a one time deal. How many people get to go to the moon each year, other than astronauts.

Six months passed and Jimmy is back and preparing for his flight. He is practicing walking without gravity. He has done the simulation at the KSC Park. He has done the Centrifuge. He also was flying the training airplane. Also, he did the underwater activities.Of course, before going into space you have to do the final test and pass it.

The final test was a simulator. The simulator simulated everything. From emergencies to cautions, it also included motion and sounds. The simulator seemed just like a real flight. Of corse, a simulator is suppose to do that but there was something about this one.

Most of the time has passed and it is time for Jimmy to pick his friend. Jimmy was thinking and he could not think of anyone to bring on the trip. "The person that is meant to come on this trip will come into my mind eventually," he said nicely. It took him about five days to figure out who he was going to take on the trip. We was praying about it every minute. Jimmy said, "This person helped me and was continually nice to me. I had to do something in return. The person I choose to go on the trip with me is..." A moment passed and finally Jimmy said enthusiastically "My dear friend Robby."

Robby was so shocked. Was he even allowed to go on this trip, people who worked for KSC were not allowed to win it. The trick was Robby could not win it but he could be the guest of it. They would leave in one week.

Five...Four...Three...Two...One, blast-off, Robby and Jimmy were on their way to the moon. They could not believe it. This was the best trip ever and the first ones to experience this. Their trip to the moon has begun. Just think they would be the first people that were not astronauts to walk on the moon.

"One big step for Robby," they laughed at that. Just think when the first man went to the moon and how exciting and horrifying it would have been. They were on the moon.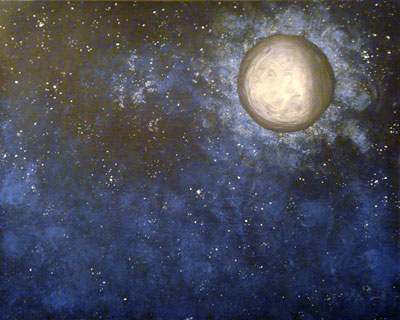 © Allison H., Vancouver, WA