The Eden Collusion
January 9, 2013
Detective Eva Solomon in
'The Eden Collusion'

"Is there any more you can tell me, Dr Rutherford?"
"I'm afraid not, Detective. That's everything. My work was nothing more than standard government research. I can't think of any reason why those fanatical Earth warriors would kidnap my daughter." The scientist's face filled with grief. Pity swept over her. She was desperate to help him, but couldn't work it out. She rubbed her dry hands together. A painful headache emerged in the back of her head and throbbed annoyingly. The Eden Project scientist who had come to her seeking urgent help to find his daughter sat opposite her, looking deep into her dark green eyes, searching for answers. Her fingers naturally drew up to her mouth and her teeth began chewing the nails as force of habit. She fiddled nervously with a loose thread on her tartan skirt.
With a deep sigh, she spoke again. "Dr Rutherford, I'm afraid there is nothing I can do. We know the Earth Warriors have tribes all over the world. The police are hard at work, but I don't know how I can help you." The doctor's face grew pale. He said in a cracking voice "Please. You must find her. She's all I've got. I don't care what they want in exchange. I must have her back; I must have her back..." His voice trailed off as he buried his face in his hands. While he sobbed, she stared out of the window.

As she looked over the asphalt houses, watched the heavy smoke clouds hover over the factories in the distance, felt the bare, bleak atmosphere that overpowered the city, she thought of her childhood. She remembered the days when the sun shone over the world and she would sit on the green grass under a tree filled with blossom, watching her grandmother plant flowers in the front yard. Those were the days when life still lived.

Coming out of her reverie, she realized her client was placing a pot of Vitamin-tea and Nutri-biscuits on the coffee table. "Please excuse my outburst. I miss my daughter." He handed her a mug. "I don't know about you, but I can't stand these nutrition bars. I can hardly remember the sweet taste of fruit jam spread over fresh bread made from real grain. You know, there's a department at the Eden centre which is researching a way to restore plant life outside the projects!"

As they drank, Eva looked around the apartment. She was stunned by the difference between his modern, spacious living room and her cramped, one bedroom flat. As she scanned the room, her eyes fell on an open door in the corner. The doctor evidently saw her looking. "That's my daughter's room. You're welcome to look around; you might find some clues." Eva smiled as she supposed he thought she carried a magnifying glass and could solve a case in a second, just from examining the door knob.
She got up, and wandered over to the room. A colourful sign hang on the door with the name 'Aisla' surrounded by flower stickers. When she looked inside, the unexpected hit her. "Dr Rutherford," she called. He appeared beside her. She looked at him, and then to his daughter's desk, which was cluttered with test tube racks, Petri-dishes, spatulas, and notepads. She then gazed at the numerous plant pots around the room, all containing soil and a tiny green plant peeping out the top. "What is all of this?" Eva gasped. It was the first time she had seen a plant in years. She turned to the scientist. He looked as shocked as she did. "It's just my daughter's hobby. She spends endless hours in here, but I thought she was experimenting with the spare samples I bring home. I never imagined she had achieved the re-creation of plant life. Like I told you, there are scientists who have been working on this for years. How could she have possibly...?"

Before he could finish, a loud bleeping made them both jump. Dr Rutherford dashed over to his laptop. After a brief silence, he looked up in horror. Eva went to him quickly, and read the message herself.

We did not do it. The government is your enemy. They have your daughter.
Noah, Earth Warrior.

The scientist and the detective stared at each other aghast. Eva Solomon took a deep breath. She was on the case.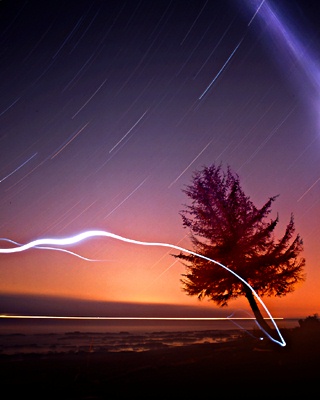 © Joey M., Spokane, WA