Collapse
July 21, 2014
They say I should make a log of what happened. For future generations, they say.

So, here it goes.

I am Azaria Rey. I survived the collapse.
Here is my story.


It was Monday, October twelfth. The day of the end.
I tripped on the uneven sidewalk, sending my backpack and books flying. Other high schoolers knocked into me as I crouched down, retrieving my things. I heard some of the muttering "Idiot freshmen", and my face reddened. The bell rang, and I realized I would be running late. Again.
After retrieving all of my belongings, I hurried into Maymester High, and down the labyrinth rows of red lockers. I wasn't the only one who was late. When I reached my locker, I groaned, because Ugly Hudson, sorry, Hudson Demacarus, my locker neighbor, was there.
Hudson had dark blond hair cut short, and was small for his age, his head barely an inch taller than my own. Ugly Hudson wasn't ugly, though. He was stocky, almost in a football player way, which at the beginning of the year had made several girls go all dreamy over him. It hadn't lasted long, though. He had kept talking about something called "peak oil", and how soon the world, at least as we knew it, would end.
I mean, please.
Even I knew gas prices were around $5.00 a gallon, but that didn't mean anything. Just, you know, get a better job, maybe a better car, and it won't matter. But the way Ugly Hudson was so obsessed with it was uncomfortable. It was a death sentence to talk to him.
"Azaria. Hey."
I flinched. Ugly Hudson was talking to me. I cast a wary glance at him. I groaned inwardly, because Ugly Hudson was washing his locker. Who even did that? Then I saw permanent marker scribbles, and the words DROP DEAD, accompanied by some choice swear words. Ugly Hudson was frantically trying to wash it off, to no avail.
I sighed. I was just too nice of a person.
I reached into my own locker, and pulled out nail polish remover, which I kept for this exact purpose. I wasn't such a popular person in school, either.
"Here." I thrust the bottle into Ugly Hudson's hands, and slouched off to class, ignoring his thanks.

On the bus ride home, I felt someone staring at me. When I glanced up, it was Ugly Hudson. I stared back, until he grinned. Then I pretended to be asleep. I only "awoke" when a figure dropped into the seat next to me. This was a surprise, as I had no friends, and I flashed my eyes open. It was Ugly Hudson.
Before I could say Go away, he said "Do you want to come over tonight, Azaria?"
"Excuse me?" I spluttered, too grossed out by the thought. "I am perfectly fine being a lonely single person, thanks. Not to mention, my attraction to you is zilch."
It was his turn to splutter, now. I was regretting giving him my nail polish remover. God, this was so embarrassing. The "cool" kids were giving us bemused looks.
"Thats not what I meant," he finally said with a grin. "I meant only that I owe you. You saved my locker."

"You don't owe me," I snapped, finding his grin very annoying. "I hated that nail polish stuff, anyway."

"Please? You can just have dinner at my house. Plus," he added, "my mom is a fantastic cook."

I was actually finding this offer appealing, I realized. My great aunt, who was practically on her death bed, only served microwaved apple sauce that she hogged. That left me to cook for myself every night, and frankly, I could stand Ugly Hudson for a chance to have some real dinner, not made by me.

"Fine. But this doesn't mean I'm your friend or anything."

Ugly Hudson's grin widened. "Sure."

I dialed my great aunt's phone number, even though I knew she wouldn't move away from her precious TV long enough to pick up the phone. I was correct.

We rode for the rest of the bus ride in silence, until I saw Ugly Hudson's periwinkle blue house. It was the last stop, at the very edge of town, with nothing but brown and gold fields stretching out around it.

As I moved to get off the bus, Ugly Hudson stopped me. "Actually, can you pretend to be my friend? For my parent's sake? They are kind of depressed that I don't have any friends yet."

Here comes Nice Azaria, I thought. The truth was, I had a soft spot when it came to bullying, and lack of friends. I could understand how Ugly Hudson felt.

"Sure. Yeah."

"Thanks."

The road was a dirt two track, winding like a string from the road and periwinkle mailbox, for about fifty meters until it ran into a chipped and periwinkle painted house with a small porch. It reminded me of a poor farmers house. Some chickens pecked around a dying and overgrown lawn, and a shaggy white dog, which looked like a small bear, padded around from behind the house.

"Hey Fide, ol' boy!" yelled Ugly Hudson. He was yelling really loud, and I covered my ears. The dog bounded toward us, moving in a weird zig-zag pattern, and I had to leap out of the way to avoid a near collision with the animal. "He's going blind, and he's mostly deaf," Ugly Hudson explained.

"Really?" I asked sarcastically.

Before Ugly Hudson could reply, a woman jogged out of the house. She had long, curly blond hair, flowing behind her like a veil. She was wearing an odd assortment of survival gear, anything from a machete swung over her back, to a water purifier bunches of rope around her waist.

For being completely depressed about her son's lack of friends, she sure did ignore me.

"Hud, we just finished the preparations," she said, striding past me to her son. "We think its going to happen tonight."

"What's going to happen?" I asked.

"No time to explain," said Ugly Hudson. He dragged me behind the house, as we followed his mother. I looked at his face, and realized he was worried. Or scared. Something was happening.

We ignored the house, which seem to having nothing but chickens living in it, and headed directly behind it, and through a field, to a bushy and overgrown orchard. Mrs. Demacarus stopped when we were half way through the orchard, and opened a hatch in the ground. When I looked back, I couldn't even see the house anymore.

"Is this like an underground bunker?" I asked, my curiosity reaching a peak. Mrs. Demacarus had already disapeared inside.

"Yeah. We are extra precocious. This is where I live," added Ugly Hudson.

"You live in the ground?"

"Yeah. It has a bomb seal, and we hid it all the way out here, so the mobs will get the house and not us."

"Mobs?"

"You think people will be happy when they realize their one energy source has disappeared? Believe me, there will be mobs. And nobody knows how to catch food or even raise it anymore."

Ugly Hudson said it so matter of factly, I almost believed him.

Wait, I almost believed Ugly Hudson?! I needed to get out of here. Nobody believed Ugly Hudson. I realized that I didn't want to believe him.

"Um, I really should be getting back home. Ya know, homework and stuff. So… bye." I started to walk away, but Ugly Hudson caught up with me.

"Azaria, please give this a chance. The collapse is near. It isn't safe anymore."

"You are really starting to creep me out," I said, still walking. "You know, at first I thought you were okay, but then you go all "End of the world!" and I don't really want anything to do with it."

We had come back to the road. There wasn't a car in sight. Everything was silent.

"Are you just going to walk home?" He asked.

"No. My house is across town."

"Hitchhike?"

"Yeah."

"That is dangerous, you know," he said. Fide pressed his wet nose into my hand.

"Just go away, Ugly Hudson."

I didn't look to see if he had left. I knew I had hit a nerve. I realized I had been pretty mean. When I did look, Ugly Hudson was gone. Fide wasn't, though, so I ran my fingers through the dog's shaggy mane.

From a wide puddle on the ground, I could see my reflection. Why did only freaks want to be my friends? My brown hair was still in it's ridiculous bun on the top of my head. Just because it was the style, didn't mean I liked it. I looked like a teletubby.
I took off the orange scrunchy that held it in place, and shook my hair out. That was better.
Ugly Hudson was actually a really nice guy, I was slowly discovering. But did he have to be so weird? I couldn't hang out with him, or else the kids in school would bully me even more than they already did. Ugh, it was all so confusing.

I heard the welcoming roar of an engine, except it was coming from the city, instead of toward it. I sat down by the mailbox, hefting my backpack onto the ground. Fide sat next me, despite how much I tried to push him away. My watch showed the time ticking away slowly, like walking under water.

5:00 p.m.

6:00 p.m.

At eight, I felt my head bobbing against my chest, and my eyelids fluttering. And then I was asleep.

I awoke at midnight. Exactly, on-the-dot midnight. Fide was still next to me, having a doggy dream. Maybe that was what woke me. I then realized how dark it was. The moon and stars were out, casting faint shadows. What was I doing? I was as crazy as Ugly Hudson. Here I was, sitting by a stranger's mailbox, in the middle of the night, trying to hitch a ride back to the city. I should have just started walking back. It couldn't be more than three miles.
I could make out the faint shadows of the road by moonlight, so I hitched my backpack on my shoulders and stood up. Fide whined softly, but didn't follow me as I set off down the road.

The night was crisp and clear, and smelled of sweet grass and dew. The sound of the gravel on the side of the road, crunching beneath my tennis shoes, was the only sound I could hear.

I found myself wondering what my great aunt would think when I returned home past midnight. I imagined her scowling and scolding me, and myself trying to explain the weird events. I wasn't in the mood to explain anything to anyone.

My mind stumbled back to the Demarcarus's, and their strange way of living. The world couldn't just end. But then I remembered that Ugly Hudson had said that the world as we knew it would end, not the world. Earth would not end. Duh.

He could be right. I wasn't in the mood to think about anything, let alone what Ugly Hudson was thinking about. Now I was just confused.

I began to see some of the first houses. I began to hear noises.

I froze, trying to make out the words. It sounded like just plain old yelling. No, there were some screams. Despite it being midnight, I could see people filling the streets with flashlights. And then I realized it. There were no lights on in the city. Street lamps, house lights, all out. And there was a house on fire. There was the sound of breaking glass and car alarms.

Someone was coming toward me. A tall man, perhaps. Unconsciously, I began to back away. He carried a baseball bat and a bag.

"Run while you can. Grab food, and run," he said in a husky voice.

"What's happen--?"

The man sunk to his knees, the glint of a knife sticking out of his back. The thrower ran forward, and snatched the bag from the man, disappearing into the darkness. More people were approaching me.

I turned and ran. Ugly Hudson had been right.

The collapse was here.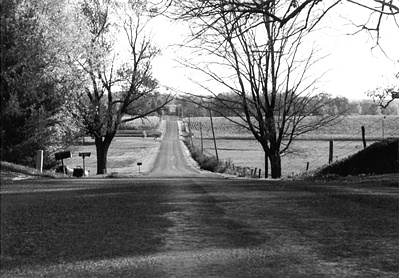 © Amy J., Sebring, OH