Cat
June 15, 2021
"Hello, Strawberry." Said the black tom in a rather insulting mew, sitting back on his haunches and putting his ears back.
The queen he'd sat next to didn't look at him, didn't move as all, but said, in a disdainful voice, "Oh. It's you."
"Yes, of course it is." If cats could roll their eyes, that's what the fluffy tom would be doing.
"Well, don't blame me. I can barely smell you through all the grass and mud and dog and rubber and leaf and bark and dirt and-"
"Be quiet." Said the tom in a sharp voice.
"-And popcorn, (SERIOUSLY? You're a cat, for Mouse's sake! CAT!), and human smell."
"The human isn't my fault! Those people can't get their hands away from me!"
Strawberry, the female, snorted in response. "Maybe it'd help if you ever groomed yourself. What kind of cat doesn't clean-"
"TAKE THAT BACK, DIRT BRAIN!" Yowled Teddy Bear, the tom.
"Not likely." Sniffed the queen, moved by his outburst just enough to flick a single ear in a disdainful sort of way.
"Oh, really? Take. It. Back." Teddy snarled, unsheathing his claws and bristling with anger.
"Yes, and when you've quite finished-" Said Strawberry, still maintaining perfect composure.
"NO-I'M-NOT-SO-STOP-THAT-RIGHT-NOW!" He hissed, angry as she licked a paw calmly. "...sweet mother of mouse..." Teddy muttered. "Take it back." He continued, snarling.
"Nah, I don't think so." The queen responded, starting on her other paw as her brother stalked around her angrily.
"You really can't read a room, can you?" Teddy mewed smugly. "Fur-brain." He added, more quietly.
"It takes on to know one," Strawberry commented airily.
"Oh, it's on. It's on." Ted growled. He crouched down, his rump twitching, then pounced on his annoying sister.
...and ended up on the floor. She'd ducked neatly, and slid out of the way, so he smashed down, not on his soft, rather fat sister, but on the hardwood floor. Standing up, and spinning around in a single heartbeat, he pounced again. This time, he knocked the queen down, but she just stood up, having been cushioned pleasantly by her own squishiness.
She turned around, spitting in fury, as if she'd just broken a bone, and slashed at his face. "OH, YOU'LL REGRET THIS, PEOPLE-PET! " Yowled the furious, bristling tom, calling his sister one of the worst insults possible. To a cat, dignity was most important. Being covered with humans, and liking it, was the highest disgrace, that a cat should be ashamed of.
"Oh, yeah?" Asked his sister in a low snarl. She jumped on him, but he rolled her over, till they were both a ball of kicking, clawing, biting fur.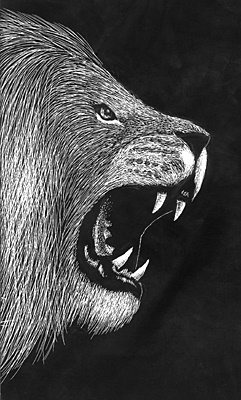 © Russell W., Alpine, UT