What's a Girl to do?
August 23, 2009
I stood in front of my mirror and tentatively touched my cheek. A light dusting of foundation clung to my fingertips, delicate but persistent. My make-up was thicker than I'd have liked, but subtlety wasn't exactly an option tonight.
Brushing the powder on the edge of my bed I added the final touch; perfume. It was an expensive bottle; my first proper one. So far I'd only had body sprays, (which were ok apart from my constant guilt pangs over the rapidly depleting ozone layer) and cheap little girls' perfume. The kind of stuff that cuts right through all other smells, scissoring your nostrils. It makes you wonder if little kids noses are different to ours. But my new bottle was, well, beautiful. Curly purple glass and a tasselled pump with flecks of glitter in it. A bit of Barbie for the grownups. I squeezed it gingerly and the haze of perfume tickled my skin as it wafted onto me. The smell was perfect, quirkily delicious like liquorice, a scent that brought a hesitant smile to my oddly shining lips.

"Chrissy?" My eyes shot to my skirt, way above the knee. There was no way I was going to let my mum see me like this.

"Yeh?" I shouted bolting into bed and slamming the light switch off.
There was a pause, during which my heart beat soared, and then the bedroom door opened and a patch of grey light appeared behind the silhouette of my mother.

"Sleepy are we?" she said, amused.

"Yeh," I stretched a bit too theatrically and snuggled deeper into my covers "long day you know..."

"Hmmm," she agreed fondly. Then "your hair looks nice."

"You sound surprised," I replied sarcastically. She laughed.

"I am! Good night sweetheart."

"Night Mum"

It seemed to take an age for her slippered footsteps to recede down the corridor, and then I heard a low mumble as she spoke to my dad. The light seeping through under my door disappeared and I knew my time had come.

In the darkness I picked my way cautiously over the wreckage on my floor. Something sharp dug into my flesh with an ominous snap and I had to bite back a gasp. That sounded expensive.

I hooked my fingers through the straps of the silvery shoes and let them dangle lazily from the tips as I slipped out of my window onto the shed. From there I could jump to the ground without hurting myself too much, or so I'd thought. It turned out I wasn't quite as resilient as my cat, who I had copied the move from. I squeezed my feet into the shoes that were too small; I was "borrowing" them from my older sister.

The party was about ten minutes away at my friend Ben's house. He opened the door and gave a low wolf whistle.

"Well you don't scrub up too bad, do you?"

I blushed and pushed past him, I wasn't used to the cold whipping around my bare legs or people looking at me like that. Inside the music was loud but the chatter almost drowned it out. Outfits ranged from flamboyant to flirty and it was hard to feel comfortable amongst all the sticky stomachs and heaving breasts. I suddenly felt stupid in my lavender outfit; everyone else's clothes were bold blocks of decisive neons, reds, blues, pinks. But I couldn't recognise anyone through the masks of make-up, which was a reassurance that I would be equally disguised.
Then I caught sight of my reflection in the frame of a mirror hanging in the hallway. I'd done everything I could, I even looked quite pretty, but I was still me. My jaw was still too strong; my eyes so blue they stood out even in the poorly lit reflection. And my ears...my ears were still horrendously large. I turned to go, how could I stay when any moment someone would recognise who I really was?

Only I bumped into someone I recognised. Tessa grabbed my arm and dragged me into the garden. I cursed her silently as the cold begin to seep in through my pores again.

"Are you having fun?" she asked, her shining golden eyes and flushed cheeks telling me she certainly was.

"I only just got here," I said, as though it was an explanation for why I had been practically sprinting back out again. Behind us came a crash and shrieks of laughter. Tessa saw my uneasy glance and gave a sympathetic smile. It had been her idea of course, the makeup, the hair, the skirt (or lack thereof). She'd always been so comfortable in herself which was probably why she enjoyed watching others squirm. A twisted kind of fascination that came with superiority.

"Come on we'll go out the front for a bit, perhaps you're not ready for everyone to meet the new you yet, eh?"

I nodded vigorously, the last of my brave resolve disappearing with the darkness as we ran back into the house. I didn't need it when Tessa was bold enough for the both of us. Through and out the door into the street, into the road and...

A skidding whirring disco light blinded us. Tessa's hand slipped out of mine and hundreds of images flashed into my mind as I hurtled backwards, turning terrifying somersaults as I went. My nail varnished hand, the secret box where I kept all of my make-up, a shoe flying away from me down the street, my sister's look when she'd caught me going through her bras, Tessa's scratched and awfully still face, the sales assistant giggling as I handed her the money for the skirt...
And my mother jumping out of the car, her fear and guilt melting into disbelief as she looked from Tessa to me.

"Christopher?"

I gave up.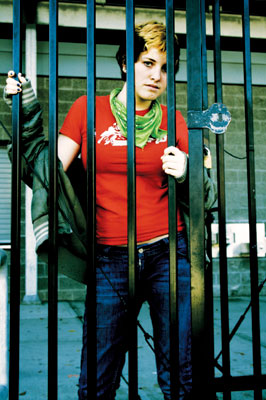 © Jessica C., Corvallis, OR