In His Eyes
January 14, 2010
I awake in a bed of silken sheets. Leisurely, I stretch. Yawning, I climb out of bed and amble down the hallway to the library. Picking up my book from where I left it the night before, I begin to read.
Hours later I pause, fingers about to turn the page. I notice how smooth the paper is, the gilded edges, the striking black print on cream pages, and the beautiful leather binding the leaves together.
After a bit, I realize how hungry I am. I mark my place in the book and walk down the stairs to the kitchen. The cook notices me and smiles, greeting me politely. She sets a plate of food on the table and hands me a piece of notepaper. Sitting down to eat, I read the note.
"Went on a walk. Don't forget to finish your work for school before you do anything else.
Love,
Mom"
"Typical Saturday," I think, yawning again. I wander back upstairs to my book, barely remembering to thank the cook for breakfast on my way out of the kitchen.
Entering the library again, I stop. Something catches my eye. Curious, I go to the window to see what it was. I look down across the courtyard to the gate. It appears to be slowly swinging inward. That's odd. No one ever uses that gate unless we're hosting a party. I hurry downt the stairs and out the front door. Running across the courtyard I see why the gate is opening. A young man, about my age, is pushing on it. He wears a tattered pair of shorts, no shirt, no shoes. Muscles straining, slowly but surely, he is succeeding. I catch his arm.
"Stop! What are you doing? Who are you?" I shout. He stops and looks at me. His eyes are large and very dark, almost black. They are deep, fathoms deep, with a closely guarded look. But there is one thing the young man couldn't hide. Pain shown out through his eyes, so terrible and deep, true violent anguish. I gasp. No one should ever have to suffer such pain. What in this world could cause such pain?
I touch his arm again, gently this time. I can't speak, but I am overwhelmed by emotions. He turns away, hiding his eyes. Pushing my hand away, he turns and runs down the road.
Stunned, I shift to go back into the house. Looking up at the open gate, the building rising in front of me, realization strikes, hits me like I ran into a wall. And for the first time in my life, I see myself through someone else's eyes. I see what I truly am. A shallow, spoiled, brat. Reeling, I look down the road again. I see him in the distance, his bare back scarred and shining in the sunlight.
I begin to run.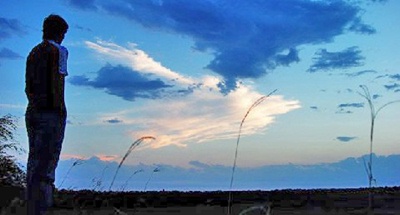 © Stefanie K., Katy, TX