Beloved
March 20, 2010
"Aimee, are you coming? You don't want to be late for the appointment!" I groaned. Yet another torture session with Dr. Sanchez, my shrink. "He's not a shrink, honey! He's your therapist," my mom would have told me, as if this minor little detail had some value of importance to me. Now that she was gone, she only had my dad's step-sister, Camila, a chubby little Latina woman who was always wearing some article of clothing in bright pink, to b**** on me while my dad was working.
"Now, Aimee," my dad had told me. "You know Aunt Camila's here to make sure you're okay at this… rough time for you." My eating disorder was always a touchy subject for him. He would rather just not talk about the giant elephant in the room, like he was hoping that maybe with the lack of attention it would just walk away unnoticed. But that was not the case this time.

"Damn it, Aimee! Dr. Sanchez is waiting! Your appointment is in twenty minutes, and you know it takes forty to get to the clinic!" Her tone was rising now. I grimaced. I hated when anyone, especially Camila, used my name when they were upset with me. But she was not a patient woman, although she seemed bubbly and sweet at first. Getting to know her personality was like when you discover a beautiful shell on the beach, but when you pick it up and take a closer look, you find a repulsive crab lurking within.

I stepped reluctantly out of my room and across the hallway, but stopped dead in my tracks when I saw Camila. "What did you do to your… hair?" I whispered, my voice hoarse from a few days of the silent treatment. But this change was too shocking to ignore just to prove a point to my aunt.

"Oh, do you like it? I just got it done this morning! Cost a fortune, but worth every penny; Drew thought so too!" She gushed, as though just mentioning her creepy boyfriend lightened her mood. I just stared at her. Her silky smooth, jet-black hair that I had always admired was now streaked with tacky Dolly Parton-style bleach-blonde highlights. Her bloated figure was adorned in a neon pink cashmere sweater and clashing red skinny jeans, although on Camila, they weren't really so skinny. She had about a million assorted necklaces around her beefy neck, from chunky bronze chains to little plastic orange chokers. A pair of metallic lime green hoops hung from her ears.

"No," I told her. "You look terrible." Camila looked hurt by that comment, but I turned on my heel feeling smug, enjoying that savory slice of vengeance. Who needs food when you can be satiated with so much else that doesn't go straight to your hips?

"Wait!" I heard from behind me. "You still have your appointment to make!" Camila's voice sounded weaker, broken somehow, and that almost made me give in. But I straightened myself out, defied her, and walked away, refusing to let myself be dragged to a shrink.


Twenty minutes later, I sat defeated in the passenger seat of Camila's Mercedes, listening to the whirr of the smooth engine and watching the yellow lines go by on the road. I had lost my battle to stay at home, as well as most of my confidence, when Camila called my dad and I melted under his stressed-out voice requesting that I "please, just listen to your aunt, Aimee darling."
"Aimee, sweetie." Camila's voice startled me, as it was the only voice I'd heard the whole ride. "I know you're upset, but you know you need these appointments."

I rolled my eyes, trying to convince myself that she wasn't worth getting upset over and I should just stay to myself. I could feel my nose wrinkling, like it always did whenever I was upset or annoyed. Sure enough, my anger soon won over me. "You know, you're not my mother," I snapped. She nodded, obviously struggling to keep calm with me. "You have no business telling me what I need if you don't even half-understand me." She didn't respond.

"Camila,"

"Aunt Camila," she corrected, then she recoiled and concentrated back on the road. "What is it, Aimee?" She asked, her pretty white teeth gritted in frustration.

"Don't call my dad at work anymore." Camila began to argue, but then thought better of it and stared at the license plate of the car in front of us. The rest of the ride was in silence.


"Hello, Aimee! How are we this week?" Dr. Sanchez cooed. I stared at her, stoney-faced and silent, watching Camila frown at me in a waiting room chair out of the corner of my eye. "Why don't you come along?"

I followed her into her bright orange office, squinting to adjust my eyes to the color. It was a spacious room, filled with assorted beanbags, La-Z-Boys, loveseats, and pillows. "Have a seat," Dr. Sanchez suggested airily. "Or stand. Or lay on the couch. However you feel the most comfortable!" A cheery grin was plastered across her pale and freckled face, and her short, boyish red hair stood on end. I awkwardly lowered myself into a fat purple beanbag, while she chose a plump red pillow and held a clipboard on her lap.

"Now, Aimee," she said. "Before we begin, is there anything you would like to tell me about your progress? Or anything at at all?" I stared back silently into her dark brown eyes and blinked slowly. "Well, okay then. Have you been eating three to five healthy meals every day?" I nodded like a good little anorexic girl. "All right, Aimee. Let's get started."


Two dread-filled hours later, I was being escorted out of the office by Dr. Sanchez. I was directed to take a seat in a waiting room chair while Camila and Dr. Sanchez discussed me, or something of that manner. They were having an avid conversation when a tall Asian boy in a red t-shirt cut through them and sat down next to me.

"Hey," he said. "I'm Peter. It means 'strong.'" I looked at him. He had a metal brace wrapped around the jeans of his right leg. "Do you go to Adrian High?" he asked me. I nodded. I hadn't been there since May, though, and it was October. "What's your name?"

"Aimee," I said. "It means 'beloved.'"

"Cool," Peter said, and grinned. "I haven't seen you at school this year. Did you transfer or something? Or did you graduate?" He looked a little unsure about that part, as I was noticeably only 15, and had shrunk in the months of my disorder.

"Um, yeah," I lied. "I go to Madison now." He stared at me, and I looked away awkwardly at Dr. Sanchez and Camila.

"Do you know her?" Peter pointed at Camila.

"I wish I didn't," I admitted. "But she's my aunt. She sure does have some ugly *** hair, though!"

"Yeah," he agreed, giggling nervously. "Hey, do you want to, uh, maybe, do something sometime? I mean, if you want to."

He took me by surprise, and I jolted up straight. He was watching me uneasily, his lips a thin line. "Well, I don't know. I've been kind of busy lately."

"Oh, okay then," he answered quickly, and we sat in silence for a few very awkward moments.

"Aimee, sweetie!" Camila called at the door, her voice falsely sweet. I grimaced, and I felt my nose wrinkle. My name sounded like poison dripping from her mouth, and whenever she called me, it ruined my confidence in the beautiful name my mother had chosen for me. I stood up and started walking toward her.

"Uh, Aimee!" Peter called from behind me. I turned around "Well, uh… see you around, I guess."

"Yeah, okay." I managed. Then I followed Camila out the door and into her gold Mercedes.


I stayed locked in my room for a few hours after leaving the clinic, thinking- or more specifically, wondering. And blaming. I was thinking about Peter, the boy with the leg brace whom I had never met before, but somehow, he had known me. I was wondering if Peter really liked me, and could see past my ugly figure, hairy limbs, and sunken features. And I was blaming myself for not taking the chance and saying yes when he asked me out- was it asking me out? I had never been much of a smooth speaker, especially when it came to boys I had never met before. But I definitely could have done better than a stumbling "Yeah, okay." I replayed various what-could-have-beens in my head, resulting in a wide range of conclusions: from me making out with him right then and there, to being spontaneous and leaving with him to take a walk in the park, to slapping him in the face and running straight home (okay, that one would just make the situation worse). But whatever I could have done, I knew that I should have taken a chance and said yes to Peter. I mean, what did I have to lose?

When I came out later that night for dinner, Camila had already gone home. Figures, as she had enough of me during the day. Lately, she came over only as my dad was pulling out of his driveway in the morning and she left as soon as she saw his car coming down the road every evening, her gold Mercedes zooming away and out of sight. She also typically relied on my dad coming home to me for his lunch break while she locked herself away in another room with a soap opera on. Apparently, mealtime with me was hell, almost as fun as running naked through a cactus patch while being broadcast on live international television might be. Due to her experience trying (and failing) to get me to eat in the early weeks of my diagnosed anorexia, she left meals to my dad, even though I ate more often now than I did then.

When I sat down to a plate of chicken at the dinner table, I immediately began peeling off the fat and pieces of dark meat, and cutting the edible pieces of lean white meat into thin, microscopic pieces. I chewed them slowly, fidgeting in my chair to try to burn off all the calories I would earn by eating this. Hey, I had to have some control over this!

"So, Matthew, what did you learn in school today?" my dad asked my brother. It was Matt's nature to tell long, and rambling tales about any subject. Ask him anything, from "Does this dress make me look fat?" to "Paper or plastic?" and he'll find a way to bore your ears off in an endless serenade of words. Knowing this, I promptly tuned him out and started thinking, again, about Peter.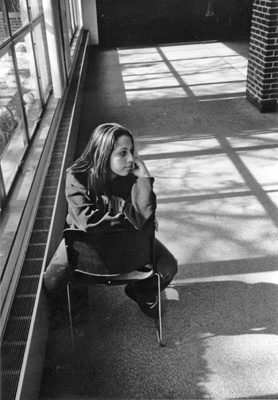 © Leighann E., Westport, MA