A Queer Mind
June 13, 2010
"Madness is unusual thing, different then it may seem, better than goodness, worst than hurt. You would need to see it to feel it but you couldn't tell could you? When you find the queer thing that helps to form your bond between difference and indifference you will feel the hold of madness and it will withhold you forever." My english professor quoted, although he quoted himself so i don't see why i should call it quoting. Darn, i have spent too much time with him haven't I.


"What odd words," mused chroma, my brother in soul as he whittled he thumbs and twiddled a block of wood,

"And even odder thoughts!" He exclaimed, i stalked out of my tent and into the bedroom. It is really my bedroom you see but how can i call something mine when i have spent so much time trying to have nothing to do with it, and ownership is something.

That is why i sleep in a tent, i cannot stand the bedroom, but i cannot afford another one, so i use my granddads tent to sleep. The bedroom is quite large with a vibrant gold carpet and creamy colored walls. There are 7 walls including the fountain wall and three floors, bud you could call them floor, ceiling, and 8th wall.

It used to be princess Diantha's special room and then after Queen Perrin's for sometime after. How it came to be mine is quite a funny story, or so i'm told, because as much as i like to know things i know already some of what happened back in the time of Rexton Tabbart, the greatest man or the maddest, and most certainly both. I come from his direct line but the way he devised the order it should have gone to my third cousin, so as to keep the big family a family, but now that he's gone it has already gone back to the old times, like they are too scared to go by a fools plan when the fool has become a king.

But my history is unimportant, my past may be a key, but my present the back door. And when my future unfolds into the past then will be now when here becomes there so as to keep the nows and hows in check.

As i flew past the guard i nearly tripped over my self in the hurry to end my thoughts for the night. As I, Gliding over the stairs and into my cousin's room, i, Uriava Basia Bena, swept up the little one and sat him into the dream circle. Taking up my spot in the center i through up my gem and called forth my mother and as day turned to the next and the earth sought to keep itself a timeless ball i was taken up and crushed into the darkness, my view of my baby cousin gone, and then it was done. I knew what had happened must must have been done before but i hoped i was wrong, that I threw them off guard.
"If only when the two paths intertwined yours came out bound" I lost, and now i paid, but not even they could see what would come from this.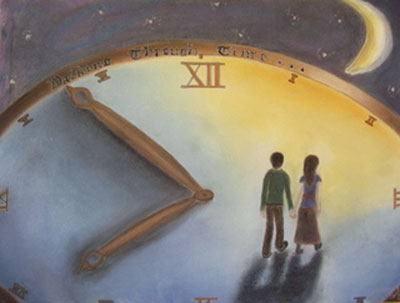 © Carollynn G., Hawthorne, NY