The Escape
August 24, 2010
I couldn't handle it anymore, I had to get away.

As I pedaled my brown 1960's Woolworth Sierra bike fiercely down the old gravel road, I could feel the certain, urgent need to leave. The surge of restlessness pulsating through my body was no longer bearable. I had to get away, I had to leave!!
I flew down the driveway to my house feeling that something was off; but I was in too much of a hurry to care. Reaching the house, I leapt from my bike onto the porch. A fluid motion that left my bike upturned with wheels spinning as though they would never stop. I had enough space on the porch left to stop myself just short of the door, almost crashing into it.
Calm down. I told myself. If I seemed too rushed my dad would notice that something was off and bombard me with questions about why I was so rushed. That was the last thing I needed him interrogating me about.
Oh dad. I frowned. How could I have not have thought about him before? How would my leaving affect him? I hadn't even though about it. I would be doing the exact same thing to him that my mother had done two years ago, except I would be coming back, or would I?

My hand slowly reached for the doorknob.

Exactly two years ago, on this very day, I came home from school to find Teresa, my mother, gone. She had vanished from our lives without so much as a note or a phone call. My dad was devastated when he found out and lost the unique spark that used to fill his eye. He would try to hide it, for my sake, but I could tell he was suffering.
How would he respond once he found his daughter gone too? I couldn't bear to think of causing him any more pain than what my mother had already caused him but I had to leave. Is this what my mother felt when she left? Did she leave knowing that she would be leaving behind what mattered most to her, but knowing she had to go? Did she pass this horrible need down to me? Maybe that's why I felt the urgency, maybe it was just in me.
All of this was going through my mind as I stood before the old cedar door with my hand resting upon the doorknob.
Even if I did leave, where would I go? I thought. That was a question that would have to be answered later. I had been saving up money for months and not spending a single penny. I don't know why I did it. My mom did the same thing before she left, maybe I was just doing what she did?
Suddenly, for some reason I remembered last weekend, when my dad and me went to the park. We read and talked and wrote and read and each other's work and had a great time. We were so similar yet he always commented on how I looked exactly like my mom, thick, dark brunette curls that draped across my shoulders like a wonderfully painted tapestry and sharp green and blue starburst eyes that twinkled like the moon, even though the moon doesn't twinkle. That's how my dad described me. His only daughter that he would give anything for, and yet, I was about to betray that love. How could I do such a thing?
I knew I needed to stay, and I wanted to even, but I just had to go. I had to get away, even if only for a little while. I just could not stay any longer.
I made my final decision that I would leave. At midnight tonight I would sneak out of my second story window and leave, with only a backpack on my back and money in my wallet. But unlike my mom, I would leave a well explained note, and until twelve a.m. tonight, I would have the best evening possible with my dad and we were going to do all of our favorite things!

With my decision made, I slowly opened the door.

Waiting inside that door was something that I would have never expected to see in my entire life. My dad stood there in the living room holding a woman tightly. I could tell the spark had come back and suddenly despised this thing that thought she could take my mother's place. No way would my fifteen year old self accept her! When my dad noticed me standing there with the door still open, he exchanged his tight grip on the woman for a loose, affectionate hold around her waist.
"Come on in dear, close the door," he said as he beamed at me and his eyes twinkled in a way I had not seem them twinkle in two years. The spark was definitely back.
Then the woman turned around, her brown locks cascading across her shoulders as she stepped away from my dad, breaking his loose hold on her.
And then her sharp icy blue green eyes met mine. I gasped and staggered back a step. How did I not recognize that four door green explorer in the driveway? But was it really… how could it be?

"Hello Maria," my mother said.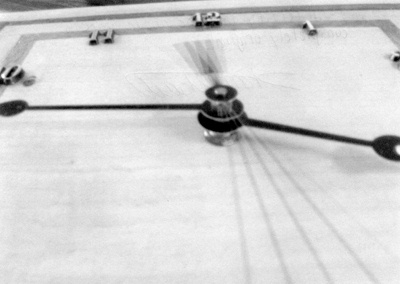 © Michael H., Milford, CT