The Death of Nature
September 11, 2010
It's not quite noontime yet but when I arrive, the entire park is shadowed in darkness. Pollution has destroyed the presence of beauty. What was never will be ever again, as far as I can tell. The pictures of history I have seen in books in the small library my father keeps are so fantastical, so unreal, in contrast to the scene I have come to.

Vaguely, I can make out the amphitheatre-like structure that the cracked stone stairs lead down to. The multiple loose pieces make it almost impossible to get anywhere in the ruins that once was a garden. The words on the sign I'd seen before this sight had faded too much for me to tell what this place had been called.

Dead plants and flowers are scattered in every direction, wilted, never having lived the joyful life they deserved. Vines had been allowed to grow and covered much of the dirt and plants, disallowing any more growths. Prior to Man's pollution, droughts and fires had annihilated much of the beauty on earth, leaving only dust and memories.

How I wish I had lived in the time of beauty, when Nature had thrived and prospered and been appreciated by Man.

Decades of careful growing and caring have come to an end, all the hard work people had put in to keeping such wonderful places wonderful wasted and forgotten by the people of this time.

I walk down the steps, making sure I don't lose my balance and fall. The gate leading to the garden is broken and I take a deep breath before entering the land of disaster. I long to see families of birds and insects—like those only ever seen in pictures—nesting in a nearby tree. But no tree is sufficient. Not even the familiar buzzing of a bee is present to irritate me. There is no sign of life.

There is a creek and, nearby, a bent pole with a faded sign on it; I can somewhat see the words 'contaminated' and 'drink', but even that has been lost with the rest of the garden. A railing to keep anyone from falling in the water has initials carved on it; I wonder what kind of world this was before, in the time of beauty. Were these the initials of loved ones?

My heart cries like the creek runs. I long for there to be beauty again. Can Man fix this dreadful mistake? I'm on your side, I tell Nature. Even if I don't seem like it, I am. A sense of hopelessness settles within me, as it's confirmed that Nature really has lost the battle against Man, no matter how hard they fought. I sit on the floor and start to cry. One day, I must fix this.

No more amazing, soft fragrance of the flowers, no more beauty in the world. No more sunlight in my life.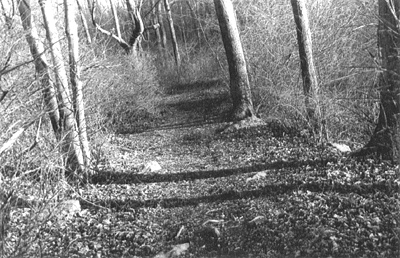 © Nicole N., Wilton, CT