Where Angels Bake Coal-love
MAG
Where angels bake coal-love,
and wrap joy likegifts,
a girl's tears ice clear
and children skate on hermisery.
chocolate kisses aren't enough anymore
and she tries to find somelogic in this
like she has with saints
Confession to a prostitute
onlyleaves her smoking to
classical radio stations and
requesting tickets tosee
Mozart in some coffee joint
in new york city.
Whereglow-in-the-dark lights
never fall to make a wish,
sometime in her stay atpurgatory
she lost her "do not disturb" sign.
so, aimlessly she'll walk,
scattering her thoughts into a
homeless man's guitar strings and
blues lyrics, and feel
"connected" at "how right he is"
where picturesare framed and collages are orderly, she'll belong
but for now,
she'llwade in and out of strangers
hoping for no eye contact.
Fear of Buttons and pink ribbons
and death,
all drown out the same emotion ofcontent.
standing on the corner in
red leather cowboy boots and
lizclaiborne glasses,
she stops to breathe.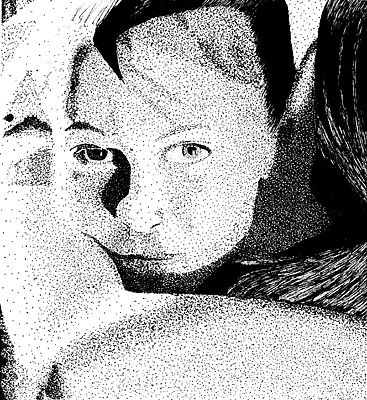 © Anonymous