A Twist on Snow White
February 7, 2012
The Princess lied serenely in a glass coffin with her pale arms crossed over her chest. Her face was still so pure and childlike considering everything that had happened to her. Snow White had been a maiden – claimed the most beautiful of the land. However, that's when the trouble started that sent her into a wakeless slumber.

Her evil stepmother, the queen, made a point to kill off Snow White so that she could remain the most beautiful in the land. She sent a huntsman to cut out the maiden's heart, but he wouldn't do such evil. Instead, he instructed her to run into the woods and never come back. Snow White did exactly this, coming upon a small cabin covered in thick cobwebs and an inch of dust. The cabin was home to seven dwarfs. They allowed her to stay, hidden from the outside world and the grasp of the evil queen. In the meantime, her supposed love interest, the Prince, searched for Snow White. He had met her at the castle's water well and instantly fell in love. Eventually, the evil queen found Snow White's whereabouts. She disguised herself and tempted Snow White with a bright red apple. The instant the maiden bit into the apple, she fell into a deep, wakeless slumber. The dwarfs hungered for revenge and managed to chase the wicked queen off an enormous cliff. However, Snow remained near dead. The only hope of revival was true love's kiss.

The dwarfs watched the beautiful maiden as her chest rose up and down in the coffin. Suddenly, the brush rustled behind them and a figured emerged. The Prince walked to the casket and looked down at his love. A tear fell down his somber face. He removed the glass cover with gentle care and leaned toward the Princess. He lightly kissed her pink lips, but she didn't wake. Didn't even stir.

"Oh, move over!" Grumpy shoved the Prince aside and planted a wet one on Snow White's forehead.

Instantly, Snow White's breath quickened and she opened her bright eyes. "Oh, Grumpy!" she cried. "You've found me!" She hopped out of the glass coffin and grabbed onto Grumpy's pudgy hand. They walked into the sunset together as the Prince cried out indignantly and the dwarfs gasped in surprise. Grumpy had been Snow White's true love all along.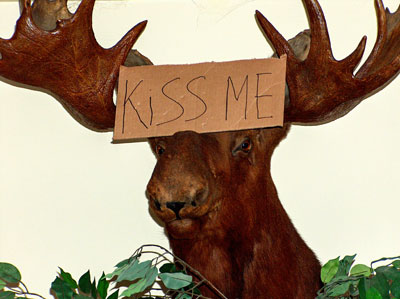 © Sean C., Princeton, IL