A girl named solemn
March 23, 2012
Solemn was the name of the lomesome figure walking down the hall, unaware of every student, locker, and teacher she past. No one aknowledged her exisitence as she was the out cast, mistfit. People saw her as impure and hazardous to their social lifes. Never seen as reliable, inviting, or intriging .
The pride of students walked by clawing at her like cats of the amazon, the blame game seemed to be their middle name. Hurting solemn with harsh words and rumors.
Ignorance wonders by. He hears the noised the words the sounds but ignores, because ofcoarse this is his god given nature. Solemn cries out for help. Ignorance doesn't look up. This was his camoflage his slow way to kill his prey. The silent enemy.
Solemn felt alone, betrayed....she couldn't go on. "Is their a door, an exit?" She seemed to ask the world. "or is this eternal suffering."
Solemn ran banging on every door tears falling from her eyes. Suddenlly she sees a neon red sign through blury eyes..."The exit."
Solemn stumbled forward opening the door looking out. The warm but firm hands of death take her soul to a place of peace rest....freedom....she sighed closing her light blue eyes.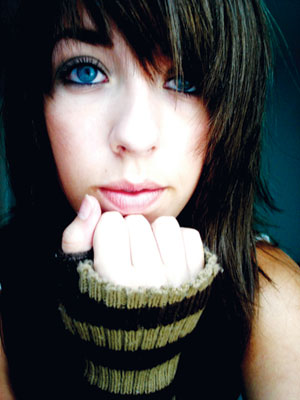 © Brit H., Peabody, MA