Open Ocean
April 10, 2012
He had been at sea for three days when he died. . . .


The metronome motion of the waves, up and down, back and forth, up and down, back and forth...

How is it that I can be surrounded by water and be thirsty? he thought. He started to drink.

How had he got there? He had gone fishing, that's right. Just like every other day. Every day. Day after day after day after day...

How had he got lost? He had been cleaning a fish, washed his hands in the wine-dark sea. It must have attracted them, the wolves of the water. The first shark circled, slowly, like a Marry-Go-Round at the fair. It distracted him. He grabbed an ore, ready to club the beast if it got too close. The second shark slammed into the port side when his back was to it, knocking him off balance. He had hit his head on the hard wood of the boat. While unconscious, he had hooked something rather large, and it drug his small vessel throughout the night. When he woke that next morning, he was far from land. Very far. He sliced the line, and started to paddle back. He must have dropped the ore-club into the sea when he fell into oblivion. He used the other, back and forth, to row back in. The wood was old, and splinters dug into his hands. A small trickle of blood dripped into the water. Hours later, or maybe minutes, he didn't know, he had to stop. Night was beginning to fall. It was dangerous to row at night. He washed his hands in the wine, the salt stinging his wounds. He took the first drink.

He wondered if they were looking for him. Then a scary thought crossed his mind as the sun beat him to the verge of insanity: Who is 'they?'
Thats when he started to question if it was real...

I wonder if my shack is still there. Where was it? I don't remember. Wait–was it ever there? How long have I been here? Have I ever been anywhere but here? I don't know...I can't remember...

I'm the last man alive. I have to be. I haven't seen another man in three moons. Three days. Three noons. How do I know there are any left? I think there are. But if I think there are unicorns, or dragons, or sea monsters, does that make them real? Does that make them exist, if I just imagine them? I'm imagining a steak. A huge steak...No, that doesn't exist either...At least I have water. An unlimited amount of water...

He died alone. He tried to imagine angels, to imagine God, but they must not exist either...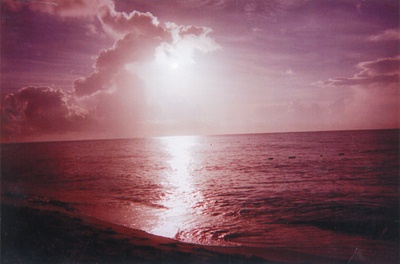 © Angela F., Bonham, TX