The Pink Balloon
April 23, 2012
Dark, pitch black all around me. Everybody else is pressed up against me. I don't like it. Suddenly it's lighter. His hand appears above us, and it takes a plunge into the bag where we are stored. Everyone else is shouting for them to be picked, but I have seen what he has done to the others, and I would rather be stuck here for eternity then go out there and eventually end with a POP!
His soft and dry hands grasp me and pull me out, and I don't know what to expect next. And then he puts my mouth into his, and he blows. It's the strangest thing. I grow and I grow larger and larger. The sound of the wind against my tough, previously un-stretched latex skin startles me, but not as much as little creatures sort of like the magician crying out in sounds that don't sound natural, or the smell, what is it? Something between the smell when our man comes out of the bathroom, and when he prods "meat" with a large stick over the fire.
And then the man ties a knot around my mouth. I squeak, squeal, and groan in pain, but the man does nothing. And then he does the same thing to two others, that are a lot longer and skinnier then I am. I hear the same squeaks, squeals, and groans, coming from them, but then he twists one into something green, vaguely resembling something growing in the ground, then the other into the pink thing that's on top of the green thing, and then my mouth is stretched in a way I am getting used to, around the top and we are all together.
The man looks at us and smiles. But with all three of our faces towards him, we cannot tell why he is handing us downwards. We feel the grasp of the same species of being, but much, much smaller. One of the ones who was screaming earlier, and that is exactly what it does. It takes off running and making retched noises. Our bodies are pulled back, and stretched further and further away from its hand until it decided to let go, and we slowly, slowly, ever so slowly drifted to the ground, and left this terrible world with a loud POP!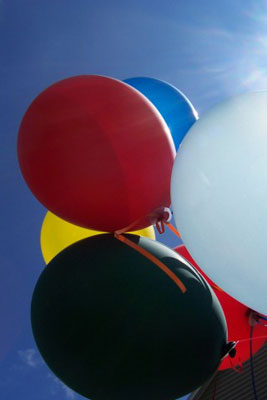 © Simone P., Summerville, SC