The Diary of a Compulsive Liar
May 29, 2012
May 20, 2012

Today I made no mistakes; today, I was perfect. I woke in a sparkling mood to the world singing tunes of Sinatra and Armstrong. My dog who is not named max did NOT shed and then proceed to urinate on the papers I don't need to be signed by the Johnsons, two streets down on the left side. And, of course, on the way to work everything went similar to fleshly brushed hair and a shaven face. I caught my taxi and had no need to fight a brawny man who most likely lives with his mother. My taxi did not run over a cat and the driver smelled delicious.

When I arrived at the large shiny building I whole heartedly adore, the door swung open and missed my face. The security card quickly checked my ID, smiled, greeted me by my proper name, and then allowed me to pass through his magical gate. I caught the elevator just in time and had a lovely conversation about politics with the other fellows who were also Republicans; we agreed on everything.

The doors slid open and they all let me out first. We waved goodbye and promised lunch plans which we will carry through tomorrow. Betsey, the young, blonde, slim secretary smiled at me with a wink. I smiled back, even though everyone knows she's a girl with high standards. Mr. boss-man greeted me and told me not only of my new raise, but also my promotion. I packed my desk items into a box (putting the picture of my Hawaiian vacation on top) and left for the day. Everyone cheered as I walked out the room.
And that leaves now, where I wash my full head of hair and scratch the itch on my stony abs. I kiss my beautiful wife goodnight and hug my well mannered children. Although the perfection surrounding me, there is no sense of satisfaction surrounding me as I drift off into nowhere land.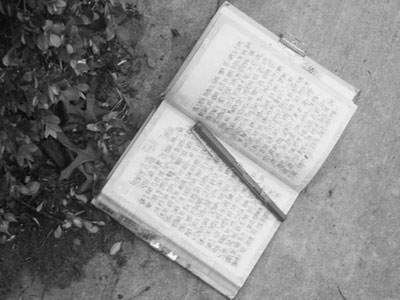 © Quinn B., Lubbock, TX