When the Worm Crawls Up
February 11, 2013
I looked out the window. This was the third day it felt like the sun forgot to come up. But the reality of it was just that there were storm clouds, but no storm. I went back inside our house to find mother inside, looking frustrated.
"What happened?" I asked.
"Its our food,' Mother replied. "Its been slowly depleting since, I don't even know."
Before I thought I saw our wheat going down, I just thought Mother had been hungry and eaten it. I decided not to worry about it too much, because we were already growing more crops and our livestock was thriving and happy. So, I grab some money and go down to the village bakery. I get a snack, and also bring one back for Mother. When she sees me come in with her favorite pastry, the frustration eases off her face.

But over the next few days, that stress returns. Our food supply keeps lowering, and we are almost out of food. Even the rest of the village is starting to stock up food, in fear of soon running out. It was only the next day when I saw the most peculiar thing. A worm was wriggling through a hole in the ground, inside the house. I looked around more closely, and saw there were multiple more along the walls. I picked them up, feeling an odd residue on the skin. When I placed them in the garden, they started to curl and uncurl, as if having muscle contractions. I go around the village, and the other families and couples seem to be having the same problem. Even when I went to sleep, I noticed a few in my bed. As I was trying to fall asleep, I heard the slimy creatures wriggling against the floor. Their torsos swollen with what looked like eggs. I woke up the next day and found our animals looking sick. I tended them for the next fortnight and they still looked terrible. Now there were more worms, along the walls, and infesting the houses. Most of our animals have died, from boils and flesh wounds. Eating less than we usually do, and watching to see if more food was gone, wasn't easy. We were hungry most of the day, and even the villagers weren't looking so well. As days limped along, the sickness was growing worse. Now people were making the connection that the disease we had was almost identical to what the animals had. People would walk around, looking like they were almost decomposing, limping and bloody. Boils popped, and worms crawled out. Villagers have been noticing worms hanging out of their body, and sacks bulging out. We would hear the screams of the children who had just been infected. The worms would crawl into our skin, and lay their eggs. It was painless, which was a bad thing. Townspeople started to die, and start to decompose. When they died, the worms took over. They were everywhere on the body, decomposing it and laying eggs. I haven't been badly infected yet, but my mother had. She was coughing up blood, pulling out worms. One evening, I saw some relatively healthy people gathered around a big hole. Even before I could get closer, I heard the disturbing sound of worms slithering around with others. I hesitantly moved closer, afraid of what I might see. I peeked over, screamed and turned around. It was a pit of bodies. But they were covered in the flesh-eating worms, bursting with the eggs that had been laid before. I ran into the forest, wanting to get away from that environment of sick people just waiting for their lives to end.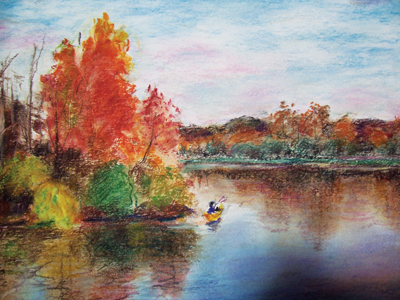 © Xiao H., Naperville, IL