Letter to Those Who Will Hear Me
March 18, 2013
Dear Reader,

I live in a land where there is no soil. Every day, out in the sun, my brothers and I toil away. The ground is hard rock which is cold as ice at night. And the shadows thrown out by light are most frightening. I live in a world in which love is nonexistent. Food and water are things we must work for.
I know about your kind, where you live. You live in a world of wonder. I hear there are seas and oceans and water that flows freely for everyone to drink and bathe in. How wonderful it must be! How lucky are you to live in such paradise?
For a while, my kin and I dreamt of visiting your world. We made hasty plans to leave our lives of slavery behind and come join you. But we were afraid that you would not accept us.
We were afraid that we would not find you.
So we gave up, hopelessness taking over our desire to be free.
I hear you have food that you can store away from thieving hands. The boxes that your store your meats in are cold and so the food does not spoil. How ingenious!
Here, we have little to eat and whatever little we have will kill your appetite. We cannot eat the meat here. It is foul and poisonous. It comes from evil beasts that prey on us and our young.
They say you have pets, animals that you keep in the home. These animals, are they loving towards you? How can beasts possibly love?
I will find your world someday. But it will take me a long while yet.
You must promise me something. You must promise me many things.
Promise me that you will preserve your world. Let no evil touch it. Let no man steal its wonders or kill its creatures. Promise me that you will protect it from the sun's scorching rays so that when I arrive it will be cool and I will not sweat as I do here in the fields. Promise me that you will love one another and share stories of love and loving people. Do not let hope abandon you as it has my people. Promise me that you will accept all people no matter what size, shape or color they are. Promise me that you will not make riches your first priority. Promise me you will respect those who have gone before you. Promise me that you will not change who you are because there are people who do not like you. Promise me that you will think yourself strong and brave.
Promise me that when I find your world, I will be happy.

Sincerely,

????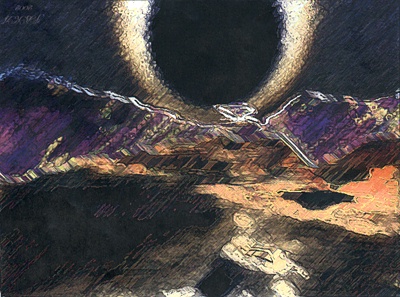 © Jason B., Colorado Springs, CO