The Perfect Day
April 9, 2013
Amy took a deep breath. She took a sip of her lemonade, then looked up to watch as the waves formed, and then crashed into the ocean splashing foam all over the shore.
She slipped her feet into the fresh, warm sand, and continued reading. No school, no chores, and no annoying brothers. Today was a perfect day.

She put her book down and went to the water's edge. She smiled as the foaming bubbles tickled her feet.
Amy looked down to see a small white shell. She picked it up and looked at it. She went to her stuff and put the shell in a container.

Amy took her camera out of her beach bag and took some pictures of the ocean. She took a picture of a beautiful orange-ish sunset spilling over the blue ocean.
She took a picture of the small cave behind her. She looked up from her camera, and closed her eyes. She felt the wind on her face.
Amy looked over to the parking lot and saw a guy leaning against his car watching her. He un-crossed his arms when he noticed she was looking at him. She looked at him curiously

She looked back at the cave and took a picture, watching the guy in the corner of her eye. He looked out toward the ocean, turning away from Amy.
Thinking quickly, Amy lifted her camera and took a picture of the guy.She smiled as she looked at the picture she had taken... It was amazing.
Amy went back to her blanket, and lay down thinking of everything. The weather was perfect. The sunset was perfect. Heck, even the guy was perfect. It was ALL perfect. This was a Perfect Day.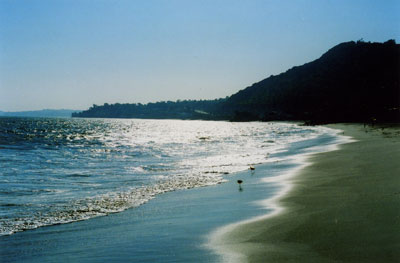 © Adam L., Washington, DC