On Tuesday
May 28, 2014
Tuesday is a cold cup of coffee – rather, a cold half-cup of coffee. Much of it is already gone, consumed while it was still warm and its scent carried the intrigue of a new week's beginning. The week's beginning is over. But the middle of the week has also not arrived. The coffee in that mug is not gone yet. Will it ever be? Who would drink such a nasty concoction? Just looking at it could inspire a grimace. The coffee is too dark. It holds sugar – nay, artificial sweetener, more likely – but lacks cream. It simply sits in its mug, cold and forgotten and bitter. It offers no promise of replenishment, no revitalization. The mug looks utterly unwelcoming, sitting by itself on the countertop, tiny cracks lacing its ceramic surface, among faint fingerprints.

The morning has passed. Time for coffee is over now. That coffee is cold – oh, so cold. So unwelcoming. And bitter - artificial sweetener in small amounts simply won't suffice. Would anyone really consider drinking that? I'll bet the bottom of the mud is covered in gritty coffee dreg sludge – dirt at the bottom of the chilly Black Lagoon. That very presence of such a forlorn mixture is unsettling. Who knew a beverage could be so depressing?!

I approach the cup of coffee and gingerly sniff its stale aroma, reeking of gloom and tedium – the smell of sitting in a room only to grow more and more unsettled and revolting as time passes by. I lightly brush the edge of the mug with my fingertips. Cold. Unwelcoming. Do I really have to drink that?

Yes. I have to drink that. It can't stay here forever. I resolutely grip the handle of the mug with one hand and hold my nose shut with the other. Closing my eyes, I strive to get the job done quickly. Not bothering to anticipate the rank staleness on my lips, I open my mouth wide to accept the invasive gloom in one large gulp.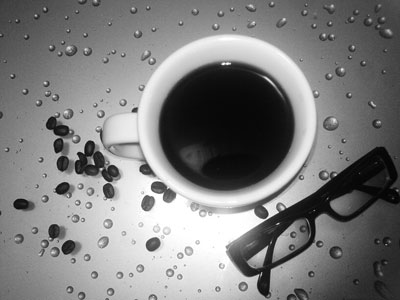 © Hannah U., Staten Island, NY