I'm Sorry
May 2, 2015
Dear Jasmine,
     I know you always depended on me to light up your night, or to guide you when the moon was dim. Trust me, it meant a lot to me that someone would trust me so much. However, I'm old, I'm fragile. How do you expect me not to break if you weren't able to catch me? I suppose it's normal, I've heard that other kids your age expect the same thing. Therefore, I just wanted to apologize that I wasn't able to make you happy in the end…

     Do you remember the time when you were little, and I would help you read at night, watch as you tried to, "just-finish-this-last-chapter," before you would numbly fall into profound sleep? It happened most nights – and you never rally ever did finish that chapter… Too bad I won't be able to know what happens at the end of the book, it was truly interesting.

     You threw me away too quickly, replacing me with another…Then again, that was my fault, since I'm the one now broken, shattered. I'm sorry I couldn't last longer, I'm sorry I couldn't be what I once was. I'm sorry I couldn't be what was expected of me—what I expected of myself. I knew, like you, I shouldn't do better than simply breaking…

     You meant a lot to me back then, and you still do. I would do anything to get reattached, so I could be what I once was. I hope you won't miss me too much… You probably won't—don't, but that's my own fault.

     I'm sorry I won't be there to light up your room one-final-time. I love the times we shared, I love you. I'll miss the memories we share, I'll miss you. Have fun with your new one; I'm sorry you wasted the money on me…
With all the love I was made with,
     You light-bulb that wasn't loved enough to be named.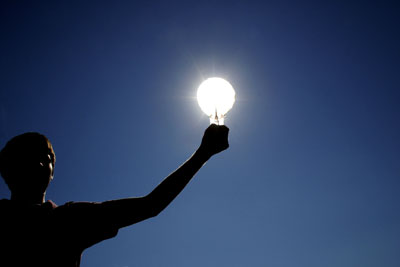 © Ty B., Oak Bluffs, MA