I am here
May 8, 2015
Call me pretentious. Is my sneer bossy? It's only war paint. It is a facade to belie the truth. Of my fear. Can't see past the surface? Past the surface that hides my hope drowning in despair's tsunami?
I am a failure. An eluding sense of comfort taunts from afar. It laughs at my feeble attempts to catch up as it dances away in heels I would kill for. Meanwhile, the physical me, dissolves in a puddle of ash, falling behind, behind. Floating. Floating away. Lost in the wind. Swept away. No. I. Can't. Give. Up. But I'm gone. Gone. I wish I were...
... and I am. I am a masterpiece. A perfect puzzle of self consciousness, yet outgoing, capable, and adventurous.
I am a prankster. While my teachers admire my steadfast focus, I sit in scheming meditation, plotting a devilish attack on my deserving older brothers. The challenge is tantalizing. I taste it. Success. On the tip of my tongue. It is bitter, yet enticing. I long for it. I dream of being...
...and I am. A warrior. I spend hours a week training for battle. The battle that is life. But more and more of late, I look in the mirror, and the snarling face that glints in the glass is the one I truly fight with. I will win, must win. Or there will not be any of me left. Nothing at all. Just a brittle shell shrivelled. Incapable of tears.
The tinkling of broken glass rains down, down, and my feet prickle in protest against this unauthorized ambush. I should sweep up my disastrous fury, that once held the face of my foe, but instead, all I can do is collapse onto the gritty reality that cuts under my skin.
I am a survivor. Still alive. Still fighting. Battered and bruised, but here. My limbs are strewn across the road, and smashed into the earth, I find myself gathering the pieces, and gluing them back together. Not a pretty sight, but I am proud of it. A wounded hero. The only one who can stand up for myself. And so, I do. Because it is all that I can do.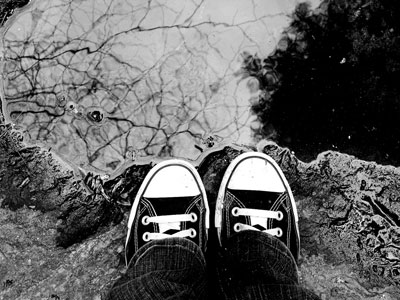 © Michelle B., Blairsville, GA