The Escape
March 25, 2009
I'm here, at home and for the moment, everything is far from normal. I'm standing in my bathroom, looking down at the sink. The house is dark; the only light is coming from where I stand in this bathroom. The only noise is my breathing. I'm shaking, and I wonder why, perhaps it was the darkness that surrounded me or the silence. I wasn't sure at this point. I glance to my left, out into the dark hallway and living room and I hear the noise I dread most.

My body begins shaking; I'm not safe at this point. I probably never was but all feelings the light brought had vanished, leaving pure fear in its place. I had to get out, but leaving the safety of the light was no option. I dared one more look to my left, just one more. I forced myself to turn my head. I saw movement in the shadows. Tears welled up in my eyes. They begin to flow down my face. I brought my hands in front of me, just looking at them. They were shaking uncontrollably.

How was I going to escape? Should I make a break for it or carefully think out a plan? I just knew I had to leave, as soon as possible. So I turned and timidly made my way up to the threshold. I glanced out, there was nothing I could see but I knew I was far from alone. I made my break for it, running into the living area. Suddenly I feel something, something pulling at me. I glance down to the source of the tug. A scream escapes my lips as I stare into those eyes. He, she, it, jumps at the sound. Yes, I thought, shaking my ankle to finally be free. It growls, and getting to its legs begins to chase me. It staggers with each step it takes.

I force myself to concentrate on my escape. That was all that mattered at this point in time. I made my way to the door, and wasting no time, threw it open and escaped out into the cool night air. I glanced back to see the thing clawing through the door, but I turned my head and made my way forward, evermore forward.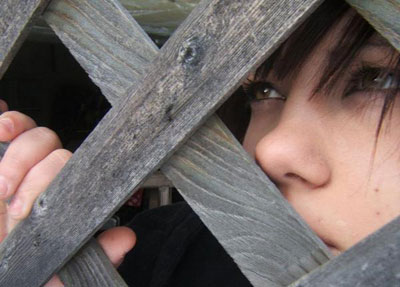 © Krystal B., Bloomingdale, IL