The Decaying Ground
June 4, 2019
Submitting to the decaying ground, I sank to hell. My knees became numb as if they had been in a hyperbaric chamber for a week. My arms frozen in time as I hear the loudest course of boos you could ever hear. The funny part was I couldn't cry or get angry I just stood there and took it.
How did I get here you may ask. Well, I'll put it in a simple context. Picture yourself as a good person who does good things and strives to be the best. Someone who realize feeling like you deserve something and feeling like you earned something coincides with each other. A person who pushes themselves to touch things that were once considered untouchable. The guy who thinks outside the box. Now picture everything in the world turning on you at one. It was as if flowers turned into weeds, fans into haters and light into dark. The entire world was flipped upside down in a split second. I cannot explain the how or the why but I can sure explain what happened.
As the boos became louder and louder, I stood on the stage taking it all in. I couldn't muster the courage to say anything else to the people. So I did what just about everyone else in the same situation would do. I took the award I help in my hand and put it down on the stage and walked off stage. What is ironic is I could see many other celebrities trying to tell others to stop and show respect. But trying to stop that crowd was like trying to stop a bull from charging after someone in a red suit. My mind was really in a awkward place. I almost knew what was going to happen next which allowed me to calculate my moves afterwards.
After I walked off stage I made a jog back to my dressing room. My phone, which was on silent, was at the point where it was just about to explode. I so instead of trying to sort through the calls, I made one important one. After that brief conversation, I let a security guard know unless it was my date (who I knew was probably heading for my dressing room as well) or a member of my team, let no one else come near. I was just about ready to go when I heard a knock. Sure enough, it was my date followed by my manager. I hugged them both. But this wasn't just a hug, it was one of those lean on me things. None of us said a word. None of us made a sound. Until my manage finally said whenever you're ready.
The walkout was really easy for me because I had my inner core with me. Those people who helped me and understood me and saw things through different eyes. Even my bodyguards who were shielding me from the blinding lights of cameramen knew that I worked hard and I showed love. That's all I could do. Whether or not people realize that is on them. Sometimes I feel like more people need to understand that. If you show love and you do all you can to help the world, then no one can take that from you. If they feel you don't deserve credit, then so be it because at the end of the day you know what kind of legacy you're going to leave with. So with every step I took, I felt stronger. I felt the once decaying growing to begin to feel stable again. The voices of thousands of people wanting to know how I felt at that moment were silenced by the power I felt. Each inch of the surface become solid and comfortable. When I reached the backseat of my Rolls Royce, I simply look around and realized that I was going to make it.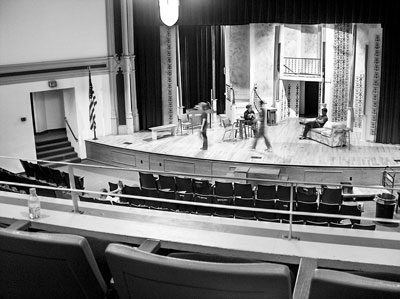 © Sean C., Princeton, IL