Alice in Wonderland Allegory
December 22, 2018
"We're all mad here" said the Cheshire cat. Alice entered wonderland thinking nothing more of it than a land of complete nonsense. A world where cats fly and caterpillars smoke is delightful but surely not existent in the mind of a realist. Wonderland, as she would realize in the future, is a world of philosophers. Each madder than the last, they are merely stuck in a mental free for all. Surely one could leave Wonderland once they have realized why they entered, but none of them ever will. They'll just drink their tea and smoke their hookah and waste away under the Wonderland sky. Alice may not know her purpose, but she knows this.
Years passed, and Alice, still in wonderland. She planned many escapes. Starting off modest, she figured if she went to sleep she might wake up in her bedroom again. This attempt failed and after many trial and errors, she grew impatient. She forced herself to cry, thinking she could use the river of her tears to sail home. She gave herself cuts, hoping to bleed out the muchness it takes a person to create a world of such oddness. None of these attempts succeeded.
She told herself that she will have left Wonderland on that night itself. I don't think she wanted to go home anymore, just to a place where the distortion could no longer consume her. "Maybe if I died," Alice thought. "If I die then not only do I outrun this frustration but ,without me, Wonderland cannot exist."
She jumped from the highest building of the red queen's castle. This jump had ended her life. However, on the way down, right before the comforting embrace of the once simple but now murderous ground, she felt inside of her that the sadness would last forever.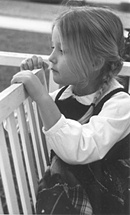 © Amy B., Alabaster, AL