Dream Vacation
December 19, 2009
When I was in my second period class I dozed off in class while my teacher was talking about dream vacations. I wonder about the water being surrounded on the sides, as the city charms its residents and visitors with magnificent views. Driving through the narrow bridge as if I was driving in to the sunset. The colors and the intensity of the light are just enough to calm you. The sun is like a great big romantic, inspirational fire in the sky. It would be as if a powerful symphony was quieting down, becoming more emotional and beautiful as it goes down. I smell a rose like a huge garden of scent makes up that rose. I can imagine hearing the cars rushing and romantic music playing while eating a bowl of mixed fruit.

Beeeeeeep! The bell rang, 3rd period just began and I thought of my dream vacation, which is San Francisco. The trend of high fashion and famous postcard views amazes me to explore deep in to the city. Taking a walk on the East Beach, when suddenly the water hits my feet back and fourth, then a huge blow of wind blows through my hair as if I was a bird soaring through the blue sky. Looking at the horizon with a blend of different colors opens a person's heart like mine. Then late at night going to The Cliff House, that is famous for their wonderful seafood delights, makes me have an appetite for seafood. Then as my eyes slowly closing, I look at the Golden Gate Bridge, as if I was on their looking at a great view of the city, which is filled with lights like one big light bulb.

The peace and the love that surrounds Silicon Valley which is filled with many roses that wearing perfume is not needed because once I go in there the scent is attracted to my body as if I was a flower. Going into China Town where many are buying beautiful silky scarves with the fans to cool them off. I get a silky scarf and a fan to fit in with the crowd as if I belonged In San Francisco. The neighborhood filled with children laughing and running around as if they had something to run around from. Snoozing of during class made me forget that this is only a dream, a dream vacation that one-day I wish to go to San Francisco.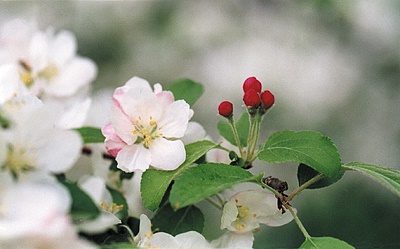 © April P., Newark, DE