Hotel California part 1
July 1, 2010
On a dark desert highway, cool wind in my hair
Warm smell of colitias, rising up through the air
Up ahead in the distance, I saw a shimmering light
My head grew heavy and my sight grew dim
I had to stop for the night
There she stood in the doorway;
I heard the mission bell
And I was thinking to myself,
?this could be heaven or this could be hell?
Then she lit up a candle and she showed me the way
There were voices down the corridor,
I thought I heard them say...

Welcome to the hotel California
Such a lovely place
Such a lovely face
Plenty of room at the hotel California
Any time of year, you can find it here

Her mind is tiffany-twisted, she got the Mercedes bends
She got a lot of pretty, pretty boys, that she calls friends
How they dance in the courtyard, sweet summer sweat.
Some dance to remember, some dance to forget.

-Hotel California, by the Eagles



Julie lived in the thriving metropolitan of Los Angeles California. She was a pretty girl., with girl light brownish, reddish hair that hung straight down to her waist and electric, icy blue eyes. She was model thin and stood at a whole 5'6. Her skin was pale and the small yet full mouth below her button nose was full and red.

Julie was an indefinitely spoiled child, spoiled by her two celebrity parents, the hottest couple of the decade, Joy Love and Robert Peace (they had changed their names in that groovy era called the sixties.) Joy and Robert were constantly absent during Julies childhood. If it wasn't because they were at the seasons next hottest event, it was because of the high they were receiving from the current hot drug. Because of this the two, who were decent enough to feel guilty for their absentness in their only child's life, threw constant money and gifts at Julie.

Right now the young socialite was sitting on her bed her, playing with the cord to her phone. She was talking to Danny Glut, the young heir to the Glut fortune. The Gluts owned a large hotel industry around the world, though they held, money, power, and their son wasn't completely unfortunate in the looks department, Julie had no interest in them. Danny was the tenth boy today to call and invite her to the opening of the hot new club, The StarWood. She had turned them all down knowing only one person she intended on going to the club with Shaun Cassidy, America's current boy candy. He was two years older than her and the thought of arriving to the club opening with anyone else was unbearable. Julie dabbled in modeling and the whole world knew her name she was the girl adolescent boys had splattered over their walls revealing her in her under garments, it only made since for her and Shaun to go together. The only problem to her sensible plan was that Shaun hadn't actually asked her yet. But this was 1977, surely it was acceptable for a girl to do the inviting!

Julie politely refused Danny's offer, and dialed in Shaun's number.

"Hello," answered a deep voice that made the great Julie Peace's legs shake and her heart swoon.

For a second Julie was dazzled forgetting why she had called, Oh yes, the club right. "Hey, Shaun, I was just wondering if-" Julie was stooped short as the receiver went dead, the cause a stern elderly women standing in Julie's room her finger pressed to the receiver.

The women was giving her a look, that made Julie want to hide under her covers like a five year old. Julie walked over to the receiver and hung up the phone. Trying to compose herself, she gave a curt smile to the women. "Amida, what a pleasant surprise, what may I ask has brought you here, I was unaware their were lessons today."

Amida didn't smile back, "It is Monday there are lessons every Monday, and this is the third time this month you have skipped them."

Amida was Julie's tutor but she didn't tutor in the general things. You see their was one thing the world didn't know about the Peace family, they were wizards. Amida was supposed to teach Julie in the ways of magic, but Julie, like most teenagers, was more interested in her social life.

"Hmm, must of slipped my mind," Julie laughed nervously, but Amida was not amused.

Amida was the tenth Tudor Julie had gone through this year alone, and was known to be the strictest and best Tudor out their, she had gone through cases like this before and had straightened each out, but Julie was proving exceptionally different.

Amida gave a tight smile, "Well, we will just have to continue our lesson now."

"Now?" Now didn't work for Julie she had a dress fitting at four and a modeling shoot at six, her life was just to chaotic to deal with magic lessons.

"Yes, Now." That same tight grin was implanted on Amida's face, it was a face you didn't question with.
Julie nodded knowing she would be late for her dress fitting if she didn't go now. "What a brilliant idea, but I hope you wont mind if I just go to the girls room." Julie didn't wait for a reply she bolted in to her overly large bathroom and turned on the fan. She headed straight to the window, and shoved it open, the damn thing was stuck, but if she could just make it a bit further she should be able to slip right through. Pushing her entire small body below her arms, she managed to push up the window about an inch further. Feet first she slithered her way out and on to the rich grassy field of her front lawn. Thanking god for her thin frame, and making it out the window in one piece, Julie Sprinted across the yard towards her gold Mercedes Benz parked in the driveway.

**************************************

Julie entered her house near midnight, what she considered as early. She dropped her car keys on the counter and snapped on the kitchen light. Their sitting in the family's island bar stood her two parents. "What are you guys doing here so early?"

Robert attempted a strict look and said, "We need to talk."

Julie knew she should be frightened, her parents weren't stern or strict they were fun loving hippies, but it was hard to take her dad seriously when he was wearing a jump suit identical to John Travolta's in Saturday Night Fever, honestly old people should be banned from such things. "Ok let's talk," said Julie, pulling up a stool across from her parents.

"Well you see honey," Joy put in as she twirled her long gold hair nervously, "Were slightly worried about your schooling."

"Worried about my what?" What was going on here her parents weren't this responsible or involved.

"Amida quit," her farther said bluntly.

Julie smiled at this good news she had succeeded in beating the master at her own game.

"And that is why," her mother continued.

"Were sending you to boarding school," her farther finished.

Julies mouth all but fell off.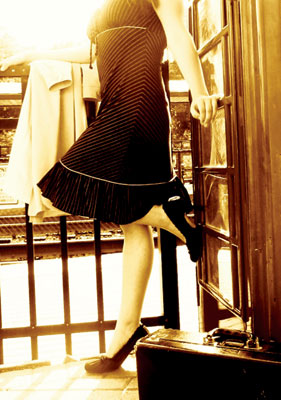 © Martha V., Morton Grove, IL