Without Wings Chapter 3 -- A Maximum Ride Story
November 6, 2010
Max's POV

We can't fly carrying much weight so Fang and I had to carry Jeb up with us. Jeb is a pretty fit guy, but he was still heavy. He finally woke up about an hour into the hike so we forced him up the hill.

It took us five hours to hike up the hill. I don't know how regular people can do it. When we got to the top the rest of the flock was gone, looking for food. Jeb walked over to our cave and laid down. What a wimp.

"I'm going to find them," Fang told me. He took off towards the closest town, leaving me with Jeb. Great.

"This is another test, isn't it," I spat at him. I was furious. He took away the one thing that connected me to the flock. I still wasn't a normal person, but now I wasn't part of the flock anymore. I couldn't stay with them, and this hike proved it.

"It wasn't my idea," he whispered. I glared at him. He looked away. What a coward.

"You let them take my wings!" I was screaming at him. I ran toward him, my anger getting stronger with each step. I pick him up by his collar and slammed him against the cave wall. "Why did you let them?" Tears were streaming down my face. Suddenly the flock landed behind me, and Fang grabbed me. He pulled me away from Jeb, away from my anger. I collapsed in his arms and cried.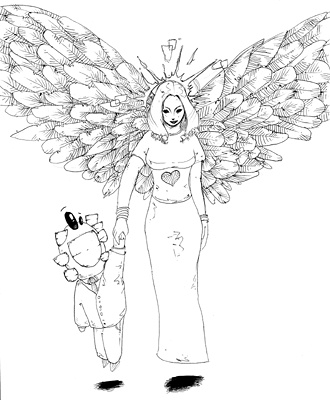 © Benjamin S., New Hyde Park, NY