Timed
April 3, 2013
This morning I awoke with a start. It was today. My wrist read
0 days 6 hours 25 minutes 12 seconds,

So it was definitely today. My mother entered the room with a tray with some pancakes on it, syrup, whipped cream, strawberries, and orange juice.

"Good morning! Today's the day!" She squealed. Excitement rippled through her eyes as she set down the tray on the foot of the bed.
"Eat up! You've got school today." She told me. I looked at my clock. School started at 8:30. It was only 6:20. I looked at her, and rolled my eyes. With how happy she was, I didn't want to dampen her mood. So I smiled at her and said with my most pleasant voice,
"6:20? Really?"
"Oh come on, I made you breakfast in bed. Don't be so grouchy. Besides, you should take the time to look nice."

She was certainly right. Just last week Alexis Perra's wrist went to 0. Lucky her, Casper Walker bumped into her shoulder on the way to chemistry. When she got into class, she screamed, asked the teacher to be excused, and ran to Casper's class and motioned for him to come into the hallway. His wrist was at 0 too. But she looked a total wreck. She had called me the day before late at night in a panic. She said things like

"What if it's a freshman?" And "What if he's ugly?" And even worse, "what if he's got glasses?" That went on for several hours.

I took a 20-minute shower, and took my time drying off. It was only 6:40. My wrist read

0 days 6 hours 5 minutes and 39 seconds.

I wasted the rest of my time putting on make-up and choosing what to wear. At 7, I got a call. The voice on the other end sounded rushed and worried.

"How much time?" The voice asked.
"Hello Jeremy." I said back.

Jeremy had been my best friend since second grade. And now it was eleventh. I thought that my timer would end at my realization of him as... More of a friend. But that would not happen because he was gay. And his timer had gone off over winter break at a Christmas party. The guy was practically my brother. My own brother was dead. I'm serious though. He was so scared to see who would make his timer zero out, that he threw himself at a car in Mexico. He broke one of his ribs, and it had poked into his heart. He didn't last twenty minutes.

"Come on Sadett. Tell me!" Jeremy called me Sadett because he thought it was fun to mix people's names. Our first conversation was him deciding what to call me.

"Sadie Cadett, you tell me how much time you have left NOW!" He screamed into the phone.

"Jeez," I sighed. "Calm down. I have 5 hours 57 minutes and 42 seconds. Happy now?"

"Very. I have a present for you. I'll give it to you at school. Bye!"

"Bye." I laughed.

I finished my breakfast at 7:20, and I began to walk down the stairs as my dad got coffee out of the machine. We didn't say anything. I packed my books into my backpack and cleared my plate.
"Sadie," He said to me as I put my cup into the dishwasher. "I hope you get someone good." He said to me.
"Thanks dad. Have a good day." I said coldly to him. I pull my hat onto my red hair as my dad stood up and gave me a box. It was wrapped in pale blue paper, with a white bow on it.
"Here," He said as he put it in my backpack. "It's for you. Open it later." He said to me as he put his hand on my shoulder. "I hope you get someone that isn't sick." He said. It was now 7:24.
"I have to go." I tell him. He nodes and I head out the door, pulling my purse and backpack onto my back. The small gift falls out, and I bend over and pick it up. I shiver slightly as a cool breeze brushes over my back. I guess I didn't dress warm enough. I had on striped long sleeved shirt and a sweater along with Kakis. The walk to the school took only ten minutes, and Jeremy met me halfway through. He gave me a medium size package with the words "FOR SADETT" written in big capital letters.
"Open it!" He told me. I opened the packaging to reveal an ivory colored lomographic camera. It was already opened. I turned it over and found it had film in it, and it had the words "SADIE CADETT, SPACE CADETT". It was a joke we had in the third grade. I laughed and slipped it into my backpack.
"What's that one?" He asked, pointing to the gift my dad gave me.
I don't know. My dad never gets me presents. He was never happy. His first wife died of cancer a month after they were married. His timer reset, and he was left alone for eighteen days. When he met my mother, he had still not gotten over his wife. I guess he still hasn't.

"Are you going to open it?" Asked Jeremy. I took off the bow, stuck it on his forehead, and ripped of the wrapping paper. Inside the box, lay a pair of red gloves, the color of my hair, with a hole for my timer in it. I tried them on, and they fit perfectly. It was beautiful.
"Wow." Said Jeremy.

We got to school at 8:10. My timer read

0 days 5 hours 33 minutes 19 seconds.

People crowded around me in excited voices. I smiled at all of them. As Jeremy cleared them away, I noticed that the boys I passed checked their timers and looked less worried. I laughed to myself and walked to first period.

Chemistry: 0 days 5 hours 18 minutes 43 seconds.

History: 0 days 4 hours 47 minutes 28 seconds

English: 0 days 4 hours 0 minutes 12 seconds

Free period: 0 days 3 hours 10 minutes 54 seconds

French: 0 days 2 hours 26 minutes 31 seconds

PE: 0 days 1 hour 21 minutes 8 seconds

Lunch: 0 days 0 hours 5 minutes 58 seconds

My heart beat out of my chest. Jeremy sat in front of me, a crowd of eager people at the table on either side of us.
4 minutes. I shriek and start to cry. A teacher comes to the table to see what it is, looks at me, and I glance at my timer. She nods, smiles, and walks away. I give my hand to Jeremy. He takes it, and squeezes it. I close my eyes to blink out my tears. They stream down my face and drip onto my turkey sandwich.
"Okay! Everyone out." Said Jeremy, shooing the crowd away as you would a fly. He looked at the girls across from us, and shouted,
"Privacy!"
They scurried away to the bathroom. 3 minutes.
"I'm right here." He said. He gave me all his fries. You might need these. I laughed a little before being consumed by tears again.
"They're not going to be good with tears on them." He said, as he took my plate and put it on his tray.
"Temporary." He told me. 2 minutes. I close my eyes. I shut everything out. I don't worry about who it is. I don't worry about Dad; I don't grieve about my brother. I don't worry about tests; I forget I have my timer. There is a loud beep and the entire room goes quiet. Jeremy isn't holding my hand. I open my eyes and stand up. Across the room another timer goes off.

Everything is quiet. Nobody talks. I walk to where the beep came from. A boy stands up and walks to me.

"My name's Walter." He says.

And Walter's not that bad. He's tall and has dark hair. He's pretty skinny. I like him.

"Sadie. Cadett. Hi."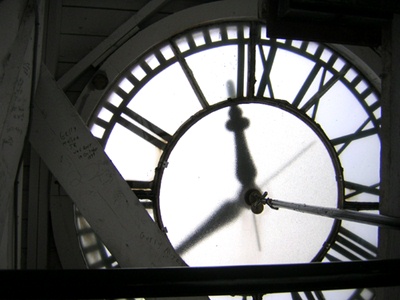 © Tatyana Z., Norwood, MA