A Diary From the Great Mona Lisa
June 12, 2009
August 8, 1503
Dear Diary,


Oh, how can I smile when I am so sad? Eight years ago I was married to Francesco del Giocondo. He was my stepmother's sister, Camilla's, husband. Then I became Elisabetta del Giocondo. I was no longer Monna Lisa; as my sweet Giuliano called me. Now am married to a man who is sweet, but much older than me. I have always felt uncomfortable being married to the late Camilla's husband. When she died, her son Bartolomeo was left with his father. Caterina, my stepmother, and I would go and visit the little one very often. And after the wedding, he was mine. At the time, he was the only thing that could make me smile.

And then my little Piero was born. I remember how mad my father was. He thought I named him after my first lover's brother. But I did not. I told him that he was named after Leonardo da Vinci's father; although, that was not the truth. And I dare not speak the truth here, because I do not trust the lock and key on this book. I should not even dare talk about Giuliano, for Francesco does not know. But he should. He deserves to. I have been married to him for too long.

Then my daughter, Camilla was born and only eight months ago I gave birth to Andrea, my little son. As I was playing with my two youngest children two days ago, an unlikely stranger came upon us. It was Sir Leonardo da Vinci! I was very happy to see him. But one thing was very peculiar. He called me by the name "Mona Lisa". The only person that called me that was Giuliano. Leonardo was good friends with him. Then he had been talking with him. He wanted to talk to me about something. But he would not tell me. He invited me to come into Florence and show me his work. I am taking Andrea because I must. And I agreed.

So yesterday I set out to Florence with Andrea. We went in a room above the monastery. He showed me some of his paintings and then suddenly I was face to face with Giuliano. I abruptly sat down on the floor. With Andrea in my arms, I felt safe. But then he crawled away and I was lost. I could not stop staring at him. He was so much taller and handsomer. Then I burst. Without me knowing it, I started to cry. Giuliano got down and hugged me. And then Andrea started crying. He cries whenever someone else is crying. He is such a funny boy.

Giuliano and I talked for a little bit. Then when he told me I was beautiful, I smiled. I had not smiled like that in years. Then he brought Leonardo over and said,

"That's it. That's the smile I want you to paint. The most beautiful smile in the world. Paint it so that no matter where I stand, she's smiling at me."

Giuliano wanted the great Leonardo da Vinci to paint my picture; even though I am married! This shows me that no matter what, he will still love me. Leonardo has always wanted to paint my picture ever since he met me. So he has gotten his wish. And now when I am posing for the painting, I will always have something to smile about.

~Mona Lisa



December 18, 1506
Dear Diary,

It has been almost four years. The painting is finished. It is nameless. Leonardo is not offended. But it should not be the Mona Lisa, because that girl left when Giuliano left. And it would not La Gioconda, because that was not my choice. A woman's choices are limited. But here and now, I make my own choice. It shall be nameless. And I think that Giuliano wouldn't care. All he wanted was to see my smile. And now I will smile forever. I will smile in my heart and in this extraordinary painting.

~M.L.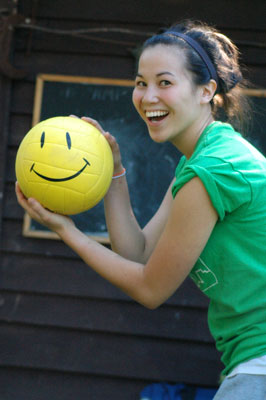 © Masaleen O., Palatine, IL