It's Good to Be Rebellious
September 23, 2009
The bright yellow sun shone through the thin pink filament of my eyelids. I slid the back of my hand across my eyes which were fluttering gently. The sweltering May heat lined beads of sweat across my wintery pale skin which I swiped with my other hand while trying to maintain my balance on my barky seat. My still delicate bare feet grabbed for foot holds in the branches of the oak I laid in. The smell of freshly mowed grass and the clinking of cool lemonade cups was a big reminder that summer was almost here. I could spy my stepmother from the tree, her wide brimmed sun hat covering her cream and roses colored skin. Soon I would be dragged to the countless teas and parties of country club life starring Sandra Pierce and her lovely daughter Clarissa.

Prince Charming, Prince Charming, Prince Charming, I chanted in my head desperately wishing for it to come true. "June!" Someone called from under me. The voice was so close it startled me almost causing me to tumble from my leafy canopy. Through the green foliage, if I squinted I could see a brown head. The soiled cut off overalls and plaid shirt could only belong to, "Mark Fairchild!"

I leaped down from my perch in the tree and galloped off towards him. He scooped me up into a spinning hug as I laughed and felt the wind whoosh around us.
"What in the world are you still doing here?"
"Well, Miss Palhmer, maybe I should be askin? you why yous up in the trees, when there's a fine party a brewin? down here,"

"But, I thought you were going to Oklahoma with your father."
"I was, but your here Sir Mr. Palhmer said he'd a hire me to work on your farm."

I hugged him again surprised at how tall he'd gotten. Mark Fairchild was the son of the farmer Hugh Fairchild on the farm yonder to us. Ever since we were kids Mark and I had been best friends. He had known my mother before the accident and helped me live through both my father's grieving and his next marriage. We went to school together and made mud pies when Sandra wasn't looking. We both turned fifteen within weeks of each other and even though we couldn't go to the same school we found ways to spend time together.

"June Dorothy," an appalled voice commanded stomping across the grass. Enter the wicked witch.

"Why aren't you in your dress?"
I was wearing my knickers and one of my father's old shirts. I hadn't exactly been planning on making my presence known until Mark showed up.

"Oh, Hello Mark dear,"
She sniffed.

"Shouldn't you be collecting eggs?"
"Yes, Misses Pierce. Excuse me Miss Palhmer," with that he was gone out to the fading red barn in the middle of the field. I glared at Sandra icily.

"The boy knows manners, you see. One day you'll be able to hire work like him."
She pulled off her white finger gloves and flicked them in my face before sending me up to my room with Prunellas' orders to give me a well deserved washing.


"You know chile, you should listen to that Misses Pierce sometimes. It gives your father a heart attack to see you misbehavin.' That is with you being almost a young woman and all."

"I am afraid, I don't understand Pru."
I sunk deeper into the pristine white tub full of bubbles.

She sighed.
After my bath I was pulled out of the white Porcelain tub. My light brown locks were curled and I was tied into a corset and petticoat. I was laced up and primped until my every curl was satisfactory. A wide rim sun hat was tied around my head and I was fluttered out of the room.

As I was making my way down the stairs, trying to not get myself killed in the high in heels I wore, the door bell rang. I was closest so I sprung forward, my hand on the knob, turning it slightly. Sandra would kill me if I wasn't on my best behavior for her guests. I took a deep breath and said, "Good afternoon..." just as I was opening the door.

It was indeed a big shocker when the faces staring back at me weren't of clean, well kept gentleman and ladies, but of my old childhood friends covered with dirt. Their eyes nearly popped out of their sockets when they eyed me, and I gave a sigh.

"Yes?"
"Wes was just wondering if you wanted to come out and play Juney..."
"But, we can tell that won't be happening."

Robbie had spoken first, and Jesse had followed. Gabe and Daniel had stayed quiet fiddling with their hats. They looked like homeless orphans. Dirt was smeared all over their handsome cheeks and their supposedly white clothes were ripped and dirty. Prunella would have had a heart attack.



Just then Sandra appeared behind me, "Who is it June?" She was asking as politely as was possible for her, but upon seeing my friends scoffed.

"Ugh, you hooligans. Get them off my property June, before I call your father."
Her ultimate threat, calling my father.


"Sorry guys, Lady Tremaine is making me go to her party." It was our little inside joke to nickname her after the evil stepmother in Cinderella. They sulked away off the front steps but darted across the yard shouting once they saw Mark. I panicked. Sandra would call the police. Hesitantly I ran down the front steps after them, trying not to call attention to the rowdy bunch.


I almost felt like a kid again charging across the lawn, holding my dress in my hands, the wind blowing in my neatly curled hair. I caught up with them behind the chicken coop, they were laughing and chatting happily but stopped when they saw me tromping in.


"So Juney, hows 'bout you and me catch a movie at the cinema?" Robbie asked jokingly.

Mark turned scarlet and tried to elbow him, but he neatly dodged it. I tried to keep a strait face but I failed.

I smiled and laughed as the boys continued to joke about taking me out.

"Robbie taking a girl like June out," Daniel laughed out of breath.

"What?" Robbie asked, now defensive. "You think, I can't take a fine girl out?"

That was when it got too far for me.

"Alright, guys," I laughed, "seriously, Sandra will call the sherif if you cause trouble."

Robbie seemed still upset over what Daniel had said and although Mark's cheeks had dulled to a light pink he was still looking down shamefully.

Gabe, who had been silently observing the whole scene, eyed the rusty fence which separated our property from the vast woods.


"Comm'on guys," he said nodding to the fence, "let's go."

They nodded in unison and Mark went to join them.

"June? You coming?" Robbie asked.

I held my skirts and looked back at the house which held the grand party.

The massive white house and wrap around porch, shone dully in the setting sun. The party was bubbling, with middle aged people in dresses and sun hats. They clinked their glasses and laughed gaily. Clarissa gossiped with her friends under a tree, while Sandra moved from party to party. There was enough people their to keep her busy for a while. Maybe, just long enough for her to not realize that, I was missing.

I looked into the bright eyes and dirty faces of her friends, then looked into the vivd greens of the expansive forest. The shadows the trees cast lolled about the ground and small animals leaped from the branches.

"Yes," I said looking back at the house with a twinkle in my amber eye, "I just think I may join you."

Then together we disappeared into the safe shadows of the forest.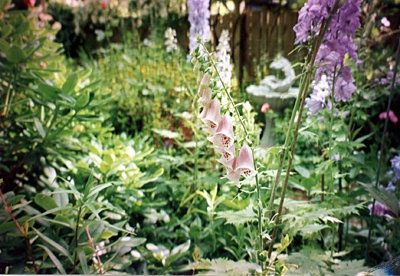 © Violet B., Phoenix, AZ