I Promise
June 11, 2010
The uneven wooden boards cut through my thin blouse as sharply as the cold air around me. I sit up, rubbing my shoulders, and take a surveillance.

Anna is sitting on a bit of wood in the middle of the floor, lit by a dimly burning pile of sticks. The light illuminates the hollows in her cheekbones and creates a sepulchral appearance. She is cutting up an old handkerchief, begging the shriveled women who walk by for any bits of clean material they might have left. But I know it is useless. She slides her glasses up her nose and sighs.

A crackling sound vibrates above me and a dry voice demands that the men line up for the last role call of the day. I haven't seen the men for five months. We are separated by the barbed wire fence that curves its way through the camp like the fangs of a rattlesnake.

Nieshka stirs on her bed, where she is supposed to be saying her bedtime prayers. I stopped saying my bedtime prayers a long time ago. My entire life has become a prayer, a single, never ending plaintive plea for liberation.

I crawl out of the small wooden bunk and lean on the edge of Nieshka's. She has become so little. I could pour puddles of water into the hollows of her collar bone, and her elbows are so sharp that they jab me when I sit down.

I smile at her. That's the only face I let Nieshka see. Something has to remain constant and dependable in her world, when everything else is falling to ruins...

"I can't sleep," she says, and her large, dark eyes give hints of nightmarish shadows.

"And why not, Little Angel?" I ask her while I give her forehead a light peck.

She sighs and places her head in my lap. It's so heavy that it hurts; I gently ease it onto a dirty, bunched up shirt. It isn't sanitary, but I stopped worrying about lice months ago when they cut our hair like all the others.

"I'm hungry. So hungry," she murmurs.

My stomach aches and my throat closes around a large lump. For a moment I cannot speak; I can only stare at the dirty shirt bunched up on my own bed. I am ashamed of how long it takes me to decide.

"Well then," I say slowly, forcing the smile to remain on my face as I walk to my bunk and pull a small piece of bread from the pocket of the shirt . "It is a good thing I have this for you."

I hand the bread to her quickly, trying to hide how violently my hand shakes.

Her dark eyes look curiously into my own. "But what will you eat, Hannah?"

I swat the air with my hand, as if shooing a fly. "I already ate my bread, Nieshka. I'm full." I pat my stomach to convince her. Then I push her hand towards her lips. "This bread is for you. They gave you extra, because you are such a good girl."

Nieshka nods, understanding. We have had this conversation before.


The first day we got to Auschwitz, I told Nieshka she must lie about her age, pretending she was older than she was because I was afraid she would be sent to the crematoria.

"You always have to work very hard, Nieshka," I had told her, "and be a good girl. You have to do the work of two girls your age, or else they won't let you stay here with me."

"Where will they send me?" She had asked with a yawn, weary from the journey we had made the night before. "Where will they send me if I don't work hard?"

I had turned my head away; I couldn't answer her. I couldn't think of a lie that would scare her just enough to keep her alive.


Now, watching as she stares at the bread in her hand, I remember my mother, torn from me the day I came here, herded off with the others towards the crematoria because of her sickness.

"Watch over your sister, Hannah," she had called, as if she were only going on an errand to the butcher and would be back any moment.


The room begins to spin, and I feel the familiar light-headed sensation come over me. I reach forward.

"Perhaps a little bite?" I ask, and Nieshka obligingly allows me to break off a morsel of coarse bread.

I slide it in between my cracked, dry lips and savor it on my tongue, closing my eyes as I let my saliva dissolve it and feel the seeds crack between my teeth. It slides down my throat much too quickly, and only makes me ravenous for more. I kiss Nieshka on the forehead and leave her before my hunger takes over.

I start to stagger as I walk and I sit myself slowly down on a barrel next to Anna. She is staring into the flames, clutching the rags to her chest.

"We are going to starve to death, Hannah." She says it as she nonchalantly adjusts her glasses, as if she were announcing her hopes for fine weather.

I glance at Nieshka, finally dozing off into a deep sleep. I pull my hands around my stomach to conceal its emaciated concavity.

"Some of us will," I tell her.


It rained the day mother was taken from me. Nieshka and I broke away from the group after numbers were scratched into our arms, and we crouched together beneath a shabby overhang, trying to get out of the way of the men who marched through the mud with their shiny guns.

Nieshka cried on my shoulder, her sobs muffled by the noise of the rain hitting the roof with little pings. My tears were masked by the rain drops that the wind pushed onto my cheeks.

"Don't leave me, Hannah. Promise me you won't leave me like Mama did," she begged as she looked up at me with her dark eyes.

I thought I might die from grief that night. But I made a firm resolution.

"Listen to me Nieshka," I said, pulling her closer. "Listen to me," I demanded again, until she choked down her sobs and looked obediently up at me. "I don't know what will happen to those around us. But you," I said, grabbing her thin arms and shaking them roughly, "You will survive. I promise you, Nieshka. You will survive."

"And you, Hannah?" the little voice asked. "You will survive, too?"

I pulled her into my chest and rocked her, repeating the words over and over again: "You will survive."


"Take this," Anna says, breaking my reminiscence. She is holding two white rags out to me. They are torn and soiled around the edges, but to me they seem clean. "Make use of them when your time comes."

I do not take them from her. Instead, I hold my stomach tighter. "I do not need them, Anna."

She raises her eyebrows. "And why?"

I shrug my shoulders and look at Nieshka to make sure she cannot hear this private talk about things she is too young to know. "My cycle has stopped."

Anna glances at me through the sides of her glasses. The dim firelight reflects off of the lenses and I cannot see her right eye. "But how, Hannah? You have not been with any man."

I can feel the facade slip away. There is only a skeleton left. A bare rack of bones and hate dangling from an empty, unlit chandelier. My tears fall like my slipping skin and sobs escape my open mouth, gaping for my mother, my father, my brother....

"I am starving," I tell her as I push the short hair off my forehead. And then I cry harder.

I muffle my face in my hands so that Nieshka cannot hear.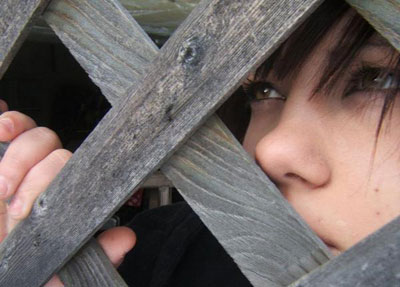 © Krystal B., Bloomingdale , IL