Freedom
January 4, 2013
I shake myself awake, hoping to hear Mama's soft, gentle voice telling me to wash the dishes. I listen more carefully, desperately wishing to hear my sister's frustrated cries for attention, and my dog's barks, trying to be heard over Sarah's cries. I strain my ears trying to hear Pa's newspaper crinkling as he turns a page, like the autumn leaves outside.
How I wish all my hopes were true, and that I had never made that terrible mistake. Now that I was awake, I found my desires frustrating. It was best not to think about being back home, even more so think about my family. All my hopes had been long-gone, just dust floating in the slight breeze, but suddenly, after all this time, they have decided to return. At first I wasn't sure why, but then the thought slowly came to me. It has been a year since I've been here.
At first I was a beggar and pleaded for my freedom, and then turned to rebellion and cursed at the guards through my tears. It was all too dreadful, too mad and impossible for a child to believe. All of it, from the guards' rough hands grabbing and taking me away from my family, to the first tears flowing down my dark cheeks.
My mouth always had a bitter flavor in it, and my sandpaper tongue didn't have enough room to move. I wished for it all to be over. I dreamed of the day when I would see happiness and hear laughter. I had recurring dreams of Mama. How she always smelled like cinnamon, and how her smile stretched across her face, her hazel eyes shining bright. I caught myself thinking about Pa's hands, so rough and dry, and how he always smelled of the cigars he loved to smoke on those tired Sunday afternoons. I wanted to carry Sarah again, wanted to feel her wiggle in my arms.
All these thoughts kept me quiet, but the pain oozed out of me and the guards smelled it from a mile away.
"Wonder why he ain't talkin'." One guard quietly murmured out the corner of his mouth.
"Bet he ain't gonna bad-mouth the president no more." The other guard smirked.
Hope quickly filled my heart, like helium filling a balloon, ready to take off. But their icy laughs robbed me from my daydream and left me with a deep, incurable scar.
Ever since that day the scar is still wide open. Every once in a while it burns, a constant reminder of who I am and who I will never be.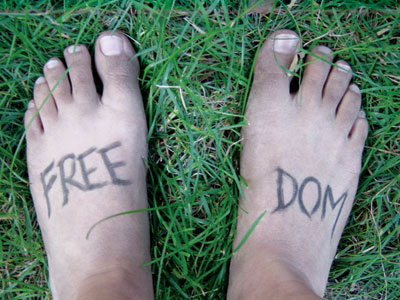 © Anna B., Northville, MI