Now What?
May 5, 2009
You can do this. Everything will be fine. I am no about to make the biggest mistake of my life. Who am I kidding?! Oh man, what if he laughs?! He's gonna say no, I just know it! What if—
His familiar voice cut through her frenzied thoughts, bringing her sharply back to earth and reminding her of what she was about to do in one painful jolt. As he led her out of the overcrowded cafeteria and into the silent, locker-lined hall, her already racing thoughts achieved a speed that could have easily outstripped all the cars at the Indy 500.

"So Sunny, what's up?"
Breathe, Sonya. You must breathe.

"Um k-k-Kyle, I was j-just wondering if you wanted to g-go out with m-m-me"
Oh god, He's gonna say no. Why did I even do this?! Oh my God, he's gonna laugh—

"Wow, Sonya"
He didn't answer; he's gonna try and be nice and let me down gently.
"Yeah, sure. Why not? Okay, yes."
You'll be okay if he says no, really, you'll live.


"I-I-I'd get it if you'd want to say no and—'
Kyle stares up at the flickering, white fluorescent lights above as if asking them for patience.

"—probably a really bad idea anyways and I—"
With no chance of getting through to her, Kyle put his hands tenderly on her shoulders and pulls Sunny to him. Suddenly, the rapid flow of words cut off and she stared up at him; a comical look of astonishment and amazement splashed across her features.
And then, he is kissing her. Sunny feels his lips pressing softly against her own; arms around her, holding her close. Kyle released her, looking into the blue eyes only inches from his own, trying to gauge her reaction.

"I'll take that as a yes?!"
Kyle nodded and pulled her to him again…. Sonya's mind dissolved into an ocean of pure happiness, but in the trailing wake of each wave floated a single question:

Now what?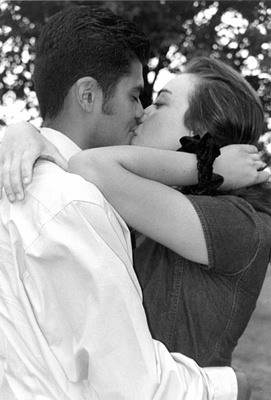 © Yaniris M., Boston, MA