Lessons Taught by Sanity
June 18, 2009
Just as my insanity flew out the window, I jumped after it. For one moment in my life, I felt what it was like to be an adult, like any other man or woman walking down the street. I had come out of the fog, yet entered it deliberately once more.
It was my twenty-first birthday. At this point, I felt I had graduated from the endless School of Adolescence. No longer would I be restricted to the one and only rule that had hung with me ever since I was eighteen: No drinking allowed. This freed me of many adult admonishments of, "Oh, be careful when you go out tonight with your friends, you'd better not drink," or, "I smell alcohol on your breath! Tell me where you've been, and never do it again until you're of age."
So, as most college students do when they reach this liberating age, I took a couple of my older friends, Sara and James, to the just-off-campus pub where everyone but me, up until this point, had hung out. It was a blast.
I had had a few sips of beer before, but never like this. Yeah, I'll admit, I had a swig once when I was sixteen and another when I was eighteen, but other than that, I'd restricted myself pretty well. I realize now how wrong I was in feeling that since I was of age, no restrictions would apply; none of the Adolescence School rules would linger with me throughout my life.
Well, I went berserk that night. Sara and James came with me, and recommended me the best beer on the menu. Of course, that's what I bought, proud to show off my driver's license with the complicated hologram imprinted upon it.
And after that first sip, I just couldn't stop. It just felt so good, even the dizziness that soon overcame me, and the feeling of not knowing quite exactly what was going on; it was a gratifying state of oblivion . . .
Until I got home. Sara had been able to control herself, so she drove the loons, James and me back to our dorm rooms. Before long, the pounding migraine set in. I tried sleeping with one foot on the floor, as they say you're supposed to do with that kind of dizziness and ringing in your ears, but to no avail. Before I knew it I was vomiting and ready to do just about anything to stop the anguish that I lay coiled on the floor from.
So I did what I felt I had to. I saw my blurry windowsill. It was so tempting, so lusciously irresistible. I crawled out the window. I never saw the light of day again. I never lived up to my high hopes and dreams established and expected after the completion of the School of Adolescence.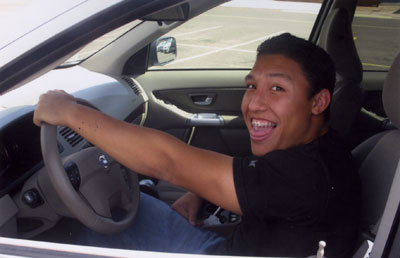 © John H., Phoenix, AZ