I Kissed the Boy Who Hit Me
MAG
May 19, 2009
I really didn't see it coming. His hand, angry and rough and quick as lightning, connected with my jaw as he smacked me across the face. Hard. My neck snapped to the side, my chin pointed downward, and that's where I stayed for at least a full minute. I was afraid to move, afraid to breathe.

Oh, my God. I'm dreaming. Please tell me this isn't real.

Hot tears clung to my lashes, but I refused to let myself cry. I focused on the burning sensation in my cheek, too afraid to shift in my seat. My face was on fire.

I swallowed hard, watching the scenery as it passed: the green grass and the yellow sun, the black blurring of mailboxes and rooftops. Except for the steady hum of the air conditioner, there was dead silence.

I tried to focus on anything, anything but the boy next to me, breathing heavily. Anything except the car speeding up as he stepped on the accelerator, driving more recklessly with every dip and curve in the road.

See the sidewalks, a steady stream of white concrete against the jet black road. See the treetops, so severely contrasting the painted cerulean sky. See the fire hydrant, bright like the stars that shine above the lake at night. See–

"This isn't my fault, Caitlin," he said quietly. I peeked at him out of the corner of my eye. His hands were gripping the steering wheel tightly, his knuckles turning white.

"What?" I was surprised to find that my voice was soft and steady, though my hands were shaking and twisting in my lap.

"You left me waiting there for an hour. What was I supposed to think?"

"It was an honest mistake," I whispered, so quietly that I could barely hear myself. "I lost track of time."

He glanced at me, his jaw clenched so hard I thought he might shatter his teeth. "Yeah, sure."

I hesitated, not knowing what he wanted me to do. I opened my mouth, and I watched his hands, and I made sure they didn't come anywhere near me. "I'm telling the truth," I said finally, quietly. "I was doing exactly what I told you I'd be doing … working on my story for the paper."

"Of course you were."

"Why don't you trust me?"

"Who was that guy you were with?"

I sighed, knowing I could never win. My cheek hurt so much, worse than when I fell of my bike and skinned my elbows and knees. It hurt worse than the time I cut my hand on a fence and needed six stitches, or the time I fell on a flower pot and sliced my knee open. It hurt because he made me hurt. It hurt because he wanted me to hurt.

"I … I just–"

"Spit it out, Caitlin!"

I fell back against the seat, feeling more defeated than I'd ever felt in my life. It was like reaching the top step just to find more stairs. It would have been easier to think, I'm sure, if my face didn't have a heartbeat.

"Why are you being so mean to me?" It just slipped out, and Aaron looked bewildered. He didn't answer right away, or even as we pulled into my neighborhood. By the time he'd parked in my driveway, we were both completely silent.

"I'm sorry, Cait," he said. "That was really stupid; I don't know what came over me."

I let my eyes meet his for the first time that afternoon. "I don't either."

He shut the car off and twisted in his seat to face me. His hand slid over my forehead, and down through my hair, and finally settled around my neck. He pulled me toward him, gently, and kissed the cheek that still ached. Now it ached with yearning.

It's strange, I suppose, how someone can treat you so wrong and you can still want him so much. I wanted to feel his lips on me again, brushing away the hurt and the pain. I wanted his touch. The school parking lot suddenly felt a million years away.

"That will never happen again," he assured me, kissing me softly. "I swear I will never do that again."

And I believed him.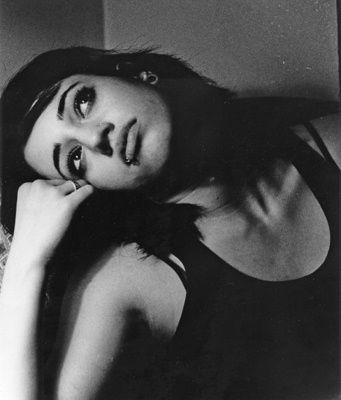 © Jessica B., Bethesda, MD