Rainbow
August 28, 2009
The teenager on the corner with the misapplied lip gloss is in a state of paranoia, complaining, via text messaging, to her bevy of friends about the lack of decent tanning weather. As her fingers chatter away, she leans a bit harder against the side of the brick building to lessen the globs of acid dew forming on her luminescent screen.

Her mother is in the barber shop, just beyond the wall. In spite of the rain, the girl won't deign to, by chance, be seen assisting her mother on a trip to get a hair cut.

But the mother's hair is getting more than cut; it's getting shaved. She had always cut her own hair, but she didn't have any shears around the house. The chemotherapy is getting to her, and she doesn't want to have to contend with clumps of greasy hair stuck beneath her pillow any longer.

The barber's feelings are rather down, this being the third shave he had given to a woman this month. He has a bright pink crossed ribbon stuck to the window of his shop, portraying his vain hopes that the breast cancer rate would cease, along with -- even in the failing economy -- his income of hair-shaving money.

Finally, the girl outside proves to have reason for her move to get away from her slowly dying mother. A grinning boy with a Mediterranean complexion comes forward flirtatiously on his four tiny skateboard wheels. Then, at the closer sight of the girl (still spilling letters on the minuscule screen at a mile a minute) and her sloppy job of putting on lip gloss, revulsion overcomes him, and he begins to scoot away without as much as a word of farewell.

The girl is rather offended at this, and glances (fingers still going) at his descending silhouette, a sneer of disgust forming on her upper lip, making the lip gloss look even worse. Before she can shout after him with a word of reproach, a sight unfolds before them both.

The barber holds the buzzing shears at his side, and a smile develops over the mother's face. The lip gloss is no longer gross to the boy, whose skateboard wheels have slowed their churning to a halt, and the girl's twitching painted nails suddenly stop flailing. The woes of the world are pushed aside for a moment as a double-rainbow fades into the sight of four preoccupied minds.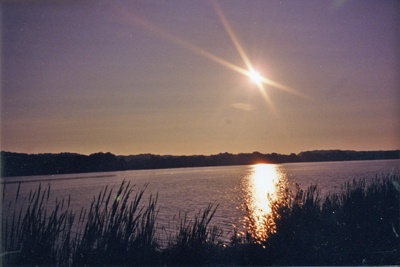 © Gabrielle C., Struthers, OH