Brussel Sprout Soup
September 24, 2009
Once upon a time, there was a boy named Fred who was a complete pessimist. He hated his life and always saw the bad in things. Since he only looked at the negative, Fred wasn't able to see any good in life, which made him even more pessimistic.

At school one day, as Fred plodded into his history classroom, Fred's teacher, Mr. Smith, reminded the class about the upcoming history test. Fred never studied for tests because he always failed and he ignored Mr. Smith's warnings to study the Roman emperors sheet he had given them. As Mr. Smith reviewed the life of Julius Caesar with his class, Fred's thoughts wandered to how much he hated salad.

When the bell rang, everyone left the classroom quickly except for Fred. He slowly put all his things into his backpack and didn't write down the homework assignment because he always forgot anyway. When the day of the test finally came, Fred failed, confirming the reasoning behind his extreme pessimism. While the other students rushed to the cafeteria, Fred had to stay back and talk with Mr. Smith. "Why do you think you failed the test today?" asked Mr. Smith with a concerned look on his face.

"Because I'm not smart enough."

"Do you study the reviews I give you?"

"What's the point? I always fail anyway," Fred replied.

After fifteen minutes of hearing Fred talk about how bad his life was, Mr. Smith decided that Fred was a hopeless pessimist and that there was no use in trying to help him. Fred was passing by three-fourths of a point, so it didn't matter anyway. He let Fred leave the classroom, and his thoughts quickly turned to the brussel sprout soup the cafeteria was serving that day. Mr. Smith loved brussel sprout soup.
Fred hated brussel sprout soup, and as he trudged to the cafeteria, the strengthening aroma of brussel sprouts nauseated him. Since he arrived late, he didn't have to wait in the usual line, but he figured his soup would be cold and all the chocolate milk would be gone. He was right. As he tossed his bowl and can of grape juice into the trash can, Fred contemplated how he would probably starve to death because the cafeteria always served gross food.

The following Wednesday was Fred's last day of school, and he was barely passing all of his classes except for English. He had always done mediocre in English, but when he entered Miss Mattie's freshman English class, his grades quickly sailed past mildly mediocre and right into downright dismal. Fred couldn't stand Miss Mattie because her lectures always sounded like a series of high-pitched squeals. Fred came up with many inventive ways to avoid listening to Miss Mattie's lectures including listening to headphones under his hoodie, stuffing pencil cap erasers in his ears, and even taping his ears closed before class. The only thing these methods of noise cancelation accomplished was making sure Fred wasn't prepared for his English exams. With the end of the year approaching, Fred had to get his grade up.

That Friday, as Fred was pushing the door of the school open to go home, he heard what he thought was a herd of crazed hamsters being stepped on by an elephant. After realizing the impossibility of that happening, he figured that it was probably just Miss Mattie. Fred turned around and was greeted by another series of crazed hamster death screams. "Hello, Miss Mattie," Fred said with the type of enthusiasm one has before having a root canal.

"Hello, Frederick. I would like to speak with you about your lackluster grades in my class," shrieked Miss Mattie.

"Sure," Fred responded.

Fred slogged along behind Miss Mattie until they reached her classroom. He entered behind her and sat in the brown threadbare chair in front of Miss Mattie's desk. "Why do you think you're failing my class?" she squeaked. Fred was getting tired of this question and replied with his usual answer.

"I'm not smart enough to pass."

"I don't understand why you're failing. I tell you all of the answers to my tests during class. All you have to do is write them down and study."

"I don't bother writing them down because I fail anyway."

"Well, I don't think you're giving yourself a chance. I'm going to give you the opportunity to write an essay on any topic you like. If you do well, I'm willing to raise your grade to passing."

Fred decided to accept her offer and soon decided on a topic. He walked home after his talk with Miss Mattie and spent the entire evening on his computer typing out an essay. The following day at school, he gave his 750 word essay to Miss Mattie before heading to the cafeteria.

In the cafeteria, as he was staring at his bowl of cabbage stew, Fred heard twelve wild geese being attacked by a pack of hyenas. "Hello Miss Mattie," he said as he turned around.

"Frederick, your essay was simply amazing! I think you should let me enter it into the D.U.M.B. Essay Contest. You could win a $10,000 scholarship and a shiny trophy!"

"Nah," Fred replied.

Fred took his essay entitled "The Life of a Pessimist" from Miss Mattie and headed for the cafeteria exit. Just as he pushed open the door, he heard a school of dolphins being eaten by a shark. "Miss Mattie, what do you want?" he asked.

"I want to know why you turned me down," she said with a pleading look in her eyes.

"Because I haven't ever won anything, and I never will," Fred answered. He was right.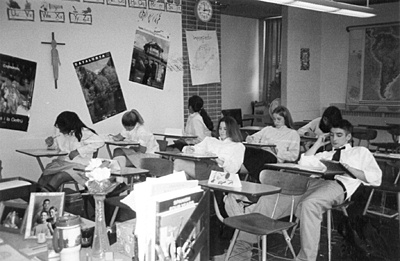 © Fox V., Whitesboro, NY